Rent a self-catering holiday bungalow for 2 + baby
holiday accommodation all on one level for baby friendly holidays

A holiday in a bungalow can be perfect for anyone with walking problems. Not having to climb stairs can be helpful to anyone who has a disability or injury. A self-catering break in a bungalow may suit a couple with a baby that still sleeps in a cot in the same bedroom as mum and dad.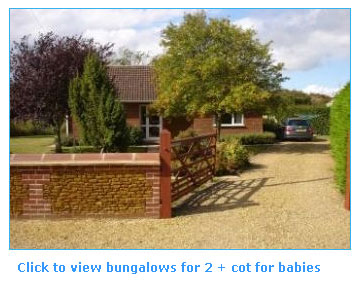 There are a lot of things that couples with a baby need to get right to have a trouble free holiday and it helps to find self-catering accommodation that caters to your needs. There are holiday cottages that specialise in baby-friendly breaks; they supply just about all the baby equipment that you may need.
Because there is such a great amount of variation in what is supplied free, what can be hired at the cottage, make a checklist of what you need, what you plan to bring and the items that will be supplied for you on arrival.
Virtually every baby-friendly cottage will have a cot supplied free of charge. Do check to see if there is a second cot in the case of twins. Cot bedding is sometimes not supplied and you have to bring your own. For people on holiday with babies, especially over a lengthy stay, good laundry facilities will take any stress out of managing the huge amounts of inevitable washing. You may not only need to ensure baby equipment but also a washing machine and tumble dryer, preferably within your holiday accommodation for your own personal use.
The other considerations are those of convenience and familiarity. It may reduce your packing to use such things as a hired buggy, however, the holiday buggy will entail different methods of operation and may not be as comfortable as your own.
Find holiday cottages for two people are all bungalows on one level by clicking on images on the page. Browse to your hearts delight and find somewhere nice for that relaxing break.