Holiday cottages with a cot and bottle warmer
Everything to keep little munchkins happy

The old-fashioned way of heating a bottle of baby milk was to leave it standing in a pan of hot water for several minutes then give it a good shake and check the temperature on the tender part of the inside of your arm. There are various electric bottle warmers on the market that heat the bottle to a safe temperature and even emit a sound when it is ready. Most of these are fairly compact for travel, however, it is yet another item to pack and transport when going on holiday and could be useful if it is provided.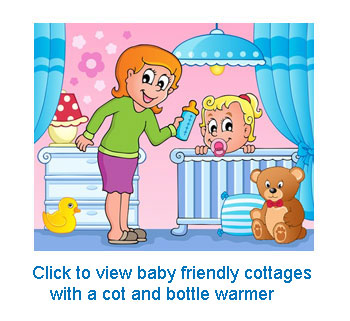 Microwaves should never be used to heat baby milk because they alter the composition of the milk and heat some parts of a bottle more than others; which could result in burns.
A bottle warmer may not be the most essential piece of baby equipment that you need but just in case it sways you between choosing one holiday cottage and another, click on the image to view a list of holiday cottages that provide a bottle warmer and a cot.