Self catering town house for 12
Rent good relaible holiday accommodation for your group of twelve people

Going away on holiday with a group of 12 people can be an exciting and yet daunting prospect at the same time, especially if it is to somewhere entirely unknown. Yet, people do this regularly, rent house for weekends away for hen nights, stag nights, to attend wedding anniversary parties and similar family celebrations. The excitement comes from looking forward to visiting a new place and the entertainment on offer.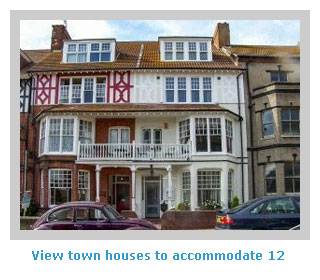 However, sharing a house with a bunch of other people can have its downsides; the lack of privacy, the need to fit in and perhaps move out of one's comfort zone. I recall going away with a group and showering my hair one morning. I had just finished soaping up my hair into a lather when the hot water ran out. Showering in freezing cold water is not a recommended experience.
Some people are ignorant renters and don't check the all important details. It is not enough to check the occupancy, location and price before renting a self-catering house or cottage. It is easy to get carried away with what appears to be really good value for money, however do check the following:
Beds. Does every adult get a full size bed to sleep in alone? Some properties have bunk beds intended for children and even inebriated guests might have an uncomfortable night. Never count a sofa bed as a proper bed; it's just not the same. Sofa beds are designed for occasional use and whoever ends up sleeping on it may just be a bit disgruntled.
The hot water. Do ask whether the heating system can cope with 12 showers or whether people have to choose either morning or evening showers. Most people wouldn't be too impressed at having to wait up until 3 am in the morning for the water to be hot enough. Families with children can always bathe younger siblings together for efficiency!
Heating. Heating varies in self-catering accommodation. Check whether the temperature is under your control or whether you might be a bit chilly in the evenings. Under floor heating sounds lovely but can pose problems; the controls can be complicated and the last thing that people away together want to do is to read heating manuals because they're being slowly cooked.
The cooker. Renting a house in town may mean that you plan to eat out as often as possible. Most self-caterers fend for themselves at breakfast and the thought of rustling up a full English breakfast is not exactly overwhelming until you attempt to use the sophisticated latest spec cooker. It could be 'back to the manual' to find out how to switch it on. Half an hour later, everyone settles for cereal.
Other things to check whether provided to save people bringing them:
Bath and hand towels for each person
Soap, shampoo and other toiletries
Toilet paper (yes, it should be provided but don't allow this to be the first surprise of your holiday)
Washing up liquid and dishwasher tablets (sometimes a small starter pack is provided)
Soap powder (in case one of your group spills red wine on the tablecloth or bedding)
First Aid kit (any group with a child will most probably need a plaster for minor cuts or blisters, preferably with a princess or cartoon character. Trust me.)
Arriving well prepared will ease any stresses and help make your self-catering break so much pleasanter.
The advantage of staying in a town is that there will be supermarkets and shops for any drinks and food that you may wish to buy for your trip and for any other items that may not be provided or people forget.
Have a wonderful break, wherever you go. Click on the photograph shown to see a list of self-catering properties in towns that sleep 12 upwards. Happy holiday home searching.