Self-catering holiday with golf (on-site or locally)
chill out on the local golf course - that's what holidays are all about. Scotland is a good value golf destination for families.

Going on a self-catering break with your friends and family to a wonderful part of the United Kingdom is a great way to spend some quality time with your loved ones. Whether you choose to rent a cottage in a quaint village, a pine lodge within an enchanted forest or a beach chalet on the gorgeous coastline, there is nothing quite like relaxing in peace and privacy in the comfort of your own rented accommodation. For those who love a spot of golf when on holiday, there are plenty of cottage to rent which have a golf club on the site of your accommodation or one locally in the nearby town or village you are staying in.
It is impossible to keep a golfer away from a golf course on holiday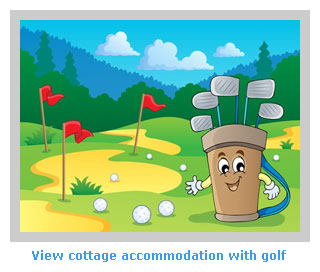 Golf is a great pastime which is both relaxing and enjoyable. Going on a self-catering break with family and friends and being able to play a game of this fun sport is a brilliant added bonus. There are plenty of cottages which have a golf course on-site, so you will not have to travel far at all to get in a few rounds of the sport in before dinner! Some of these golf courses are set within spectacular scenery, with rolling hills, soaring trees and sparkling lakes providing wonderful and serene backdrops for you to admire when hitting those golf balls! With 18 hole courses available, renting a cottage with a golf course on-site is a perfect idea for if you want the convenience of being able to play it whenever you feel like it!
Some cottage accommodations do not have their own golf course on site but have brilliant and award-winning courses very close by, which can still be reached daily. From Penzance in Cornwall to the Mull of Kintyre in Scotland, there are spectacular golf courses up and down the UK where you can hire equipment or bring your own for a spot of golf or a go at the driving range. Golf buggies can also be hired to make everything easier when on the course, and you are bound to have a brilliant time playing your favourite game with your friends and family members!
Find a holiday cottage near a golf course in Scotland
Scotland is renowned for its golf courses, there are simply so many. If you like the idea of incorporating a fair amount of golf into your holiday and perhaps teaching the children how to play, Scotland (or Ireland) have to be your main choices because fees are so much lower, making a family golfing holiday affordable. Do take a look at self-catering holidays with golf in Scotland.

If you are used to playing golf at home and having a golf course nearby, then renting a cottage close to one is ideal. If you do not usually play golf at home then it is even more of an added bonus and a luxury to be able to play whenever you want, and it will make your holiday all the more special and exciting.
Doing the things that you enjoy most during a cottage break
Self-catering holidays are wonderful for if you like to have home comforts when away, such as your own cooked meals, and with comfortable beds and sofas, flat-screen television sets with DVD players and private grounds and gardens, renting a cottage is perfect for an idyllic and tranquil break. Being able to play golf every day will be something you will absolutely love and you may find it hard to tear yourself away after a week or so enjoying this wonderful luxury!