Self-catering accommodation in a town for 4
wherever you stay in a town, there will be shops, pubs and plenty of places to eat out on holiday

There are lots of lovely towns dotted around all areas of the United Kingdom which are wonderful for renting a self-catering cottage, house or lodge for 4 people. Being able to cook your favourite meals for you and your children in your fully-equipped kitchen is fantastic, and you can also try out the local cuisine in hole-in-the-wall restaurants and bistros, to get the best of both worlds. With television sets and DVD players, evenings can be spent with the whole family relaxing in the comfort of your accommodation watching a great film together, and your days can be spend exploring your new surroundings.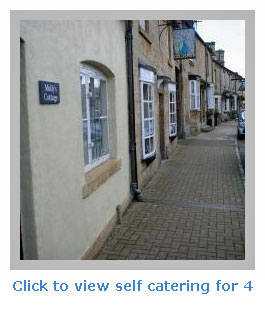 Self-catering breaks are wonderful in this way, so that you can experience a home away from home while on holiday. They are perfect for young children who may not be used to staying in hotels and who may want home comforts, and these family friendly accommodations come with amenities that will make your holiday a lot more stress-free. These cottages already come with cots for those coming on holiday with babies, as travel cots can be tricky to transport and assemble at times! They also have high chairs which are perfect for the little tots to join in on family meals as they will not want to be left out! With enclosed gardens, a safe environment and facilities such as games rooms with ping pong tables, these accommodations are kitted out to cater for families and those travelling with children.

Staying in a town is a great way to experience a thriving and lively part of the UK without too many people and too many chain stores and restaurants. Gorgeous market towns still retain their unique charm and character, and whether you choose one by the coast or within stunning mountain and forest scenery, you are bound to have a brilliant time discovering a new place with your family. The beautiful market town of Stratford-upon-Avon in south Warwickshire is a wonderful place in which to rent family friendly accommodation for 4. As the birthplace of playwright William Shakespeare, it sits on the picturesque River Avon, and lovers of The Bard will enjoy the many sights that can be seen in this wonderful town.

For a coastal town break, there are plenty in the stunning county of Devon in which to rent a cottage for 4 people. One of these coastal towns is the lovely seaside resort of Dartmouth. Home to Elizabethan cobbled streets and architecture, it is close to the sea and is within the South Devon Area of Outstanding Natural Beauty.

For soaring mountains and tranquil lakes, rent a cottage in a lovely town in the Lake District in Cumbria. Bowness-on-Windermere is a great choice of market town as it sits on the banks of Lake Windermere, the longest lake in England.

There are countless towns in the UK which are perfect for renting a self-catering family friendly cottage or lodge for 4 people, and the only difficult part will be deciding just where to stay!