Pet friendly holiday cottages for family breaks - 2 dogs welcome
Somehere where you can take the children and 2 dogs for a good time

In these enlightened days, your pet, like you, is a welcome guest in an ever longer list of cottages, spread the length and breadth of Great Britain and Ireland. In many cases guests are welcome to bring 2 dogs and sometimes more, depending on the location.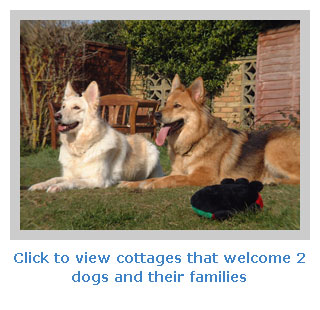 There are beautiful old converted barns with contemporary open plan living spaces, set in idyllic locations. Where you can literally hop out of bed and onto a wonderful walking trail, that will lead you and your two and four legged buddies through a vista of beautiful natural wonders and even a historic building or two.
Along rugged coastlines you'll find cottages with direct access straight onto the beach. As dawn breaks your pet will make the most of his holiday freedom and be the first in for a splash around.
Maybe you like wandering around museums or want to eat out in a different restaurant each night of your holiday. A nice cottage conveniently set in the centre of town will suit you fine and the enclosed back garden will give the pets a safe place to run.
All these cottages have been decorated and furnished with a discerning clientèle, like you, in mind. The animal loving owners are confident that your pet will behave well. So don't let them down by letting your Shih Tzu sleep on their beautiful Egyptian cotton sheets. She may just live up to the name of her breed and you could find yourself frantically scrubbing sheets on holiday.
Dog owners understand that dog-friendly cottages are the best solution to a family break. Dog-friendly cottages are adapted to provide a good homely environment for families with dogs. The flooring in the cottage is likely to be tiled, a quick mop over would eradicate all those muddy paw marks without any fuss. There will be dog bins to dispose of any mess and a field or two where your dog can be taken for a walk.
Everyone needs to relax and have a good time on holiday and sometimes it isn't easy to make plans that satisfy the children, dog and the family budget. Renting a pet-friendly holiday cottage helps you achieve that aim.
Self-catering from a dog's point of view - (a happy tale)
"Hey Furball, I've got news." Bono is running around the yard, tail wagging in a fine impression of a helicopter propeller. "I'm so excited we're going on holiday." Furball, sitting on the fence grooming herself for the 100th time that day, is not impressed." "Ha, ha" she chuckles. "They're sending you off to Butlins for dogs again." "We're all going to stay in a wooden cabin in a forest clearing" says Bono looking smug. "I knew it, Bono you're so gullible, they're sending you to stay in a kennel."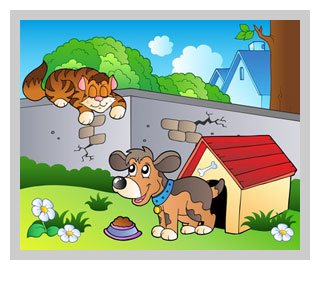 "Furball you are oh so jealous. We're going to the wilds of Scotland. My mistress says that I can go because they welcome well behaved dogs." "Hmm. Who has ever heard of a well behaved dog, how ridiculous, they must mean cats." Bono puts on his most superior voice. "Ha, ha, and ha again. They don't allow cats."
He explains to Furball that the cabin has got all kinds of creature comforts. "My mistress is all excited about something called a hot tub. Sounds as if it might be fun" says Bono adopting an air of sophistication. "That's where they'll put you after a muddy walk" Furball strikes back.
Bono ploughs on regardless."There'll be lots of rabbits to chase." "Oh come on Bono get real. You don't even know what a rabbit looks like." "Johnny says a rabbit looks like you but with long droopy ears and a pompom for a tail." "Rabbits are fast, you'll never catch one, you're too fat". "After two weeks scampering around forests, fields, and meadows I'll come back and show you how I catch rabbits".