Family self-catering cottage holidays in England
enjoy a summer seaside break on the English coast

Families more than any other group rely on good value to take a holiday and we all seek out bargains and cheap deals to eke out our holiday savings. Holiday accommodation, travel , food and drink are the three most expensive components of a holiday. The food and drink element can be reduced to relatively the same as staying at home if you self cater and don't travel abroad.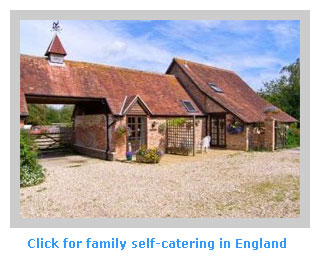 Given the choice between camping, caravanning and holiday cottage or pine lodge break, most families would opt for the cottage or lodge because of the space and additional comfort available. A cottage or lodge are weather proof so that you care less in heavy showers and can play with the children or watch TV in the comfort of your holiday home. There is so much more space for children to play and families to spread themselves out avoiding cramped conditions.
Renting a holiday cottage in England does not have to be particularly expensive although there is a complete range from budget to luxury accommodation. Children and luxury tend not to mix very well, no one wants to spend their holiday worrying about dirty fingerprints of expensive wallpaper or crumbs on the sofa. For families, serviceable and easy to clean is definitely best.
Log cabins and pine lodges are ideal for family self-catering holidays because they are built to deal with children and convenience. Wooden floors are easily swept out and because the walls are also wood, jammy finger marks and mess can be easily wiped off without causing any damage. Family holidays should be relaxing and fun and the right accommodation in the right place can help achieve that. Find log cabins to rent throughout the UK and Ireland: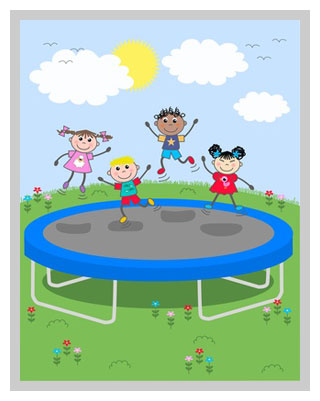 Family oriented holiday cottages, especially if part of a cottage complex, usually have good on-site facilities to entertain the children. Look for games rooms, play parks, trampolines, nature trails, boating ponds, swimming pools and outdoor games.
Sometimes it helps to consider what would delight your children on holiday and structure your holiday around that. A seaside holiday is often the simple solution for families with young children because kids love sea and sand. The big popular seaside resorts can be very busy and parking can be tricky and expensive. The ideal is to rent a cottage within easy walking distance of the beach with its own parking space. Take along a wheeled carrier of some kind, even a suitcase would do, to take all the children's beach toys, picnic blankets and chairs to the beach without having to carry. It might be worth considering some of the less popular seaside resorts, the quieter ones, to have a simple beach holiday – children make their own entertainment on a beach. If you would like to spend some time at the fun fair, have a day or afternoon out at a larger resort nearby.
The Yorkshire coast offers a selection of beaches, some family friendly ones such as Whitby, quiet locations such as Robin Hood's Bay and also the noisy amusement packed Scarborough.
The same sort of scenario is repeated around the English coast, Littlehampton, Brighton and Eastbourne are all large English seaside towns and yet there are a number of smaller, peaceful beaches in between. Do check whether they are sandy or pebble; children can't make sandcastles with pebbles.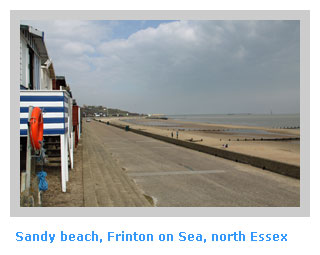 East Anglia is really good for seaside holidays in England. Norfolk is famous for its superb sandy beaches, plus there are excellent beaches in Suffolk and north Essex. Frinton-on-Sea in Essex has miles of sandy beach, beach huts and a pleasant town. Southend-on-Sea in Essex offers a lively very well maintained fun fair staffed by helpful polite staff. It is operated on a wrist band basis and represents extremely good value when compared to the large theme parks such as Thorpe Park or Legoland. The beach at Southend is poor and muddy compared to other seaside towns in Essex, although it has compensations for families looking for a busy seaside town with plenty of entertainment and would suit families with teenage children. A small area of sand has been imported to create a playground for children on the beach with good sand for making sand castles and water play.
Read more about renting a holiday cottage for a family break in Norfolk
Suffolk in east England offers a great deal for wholesome traditional family breaks. There are those desirable sandy beaches and popular resorts such as Lowestoft, also boating on the River Waveney and Broads that extend northwards into Norfolk. Suffolk has a little of everything for a family holiday, there are woodlands for mountain biking and nature trails at Thetford, nature reserves, especially along the coast, a theme park and hundreds of ancient villages brimming with history that would bring history into any family holiday. There are also hundreds of beautiful holiday cottages to rent in Suffolk, so do read more about the possibility of Suffolk for a family break.
There are also plenty of visitor attractions in Essex, something for all ages. It is impossible to be bored there and highly recommended for a family break.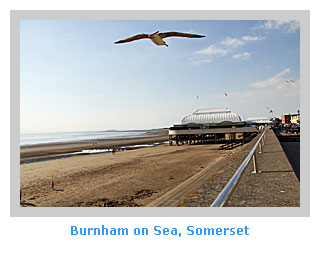 Well loved family seaside resorts abound; Whitstable in Kent, the lovely small seaside towns and sandy beaches of the Isle of Wight, Milford and Barton on Sea in Hampshire, near the New Forest.
The West Country counties; Cornwall, Devon, Somerset and Dorset are a magnet for summer family seaside holidays and can understandably become very busy. Fortunately the road network has improved in recent years resulting in fewer traffic jams. Always bear in mind that young children do not like sitting in cars for too long. Ideally, it is best to holiday within a radius of three hours if travelling by car.
For a change and less expensive holiday, try renting a self-catering cottage in a less well known seaside resort. The eastern side of England is drier with less rain than the west and Essex is one of the driest parts of Britain.
Do take a look at family self-catering holidays in England. This page has focused on seaside breaks because young children love them, but there are many different alternatives; farm holidays can also be very good for young children or activity breaks where the family learns a new skill. With a little time and reading, you could put together a holiday itinerary that does not cost the Earth and have a really enjoyable family cottage holiday in England.