Holiday cottages with ponies
a real treat and holiday to remember for the children

Escaping to a beautiful area of the UK with your family and friends on a self-catering cottage break is a great experience and one which you will want to repeat year after year. There is so much to see in the United Kingdom and there are many different types of holiday cottages in various parts of the country for you to rent and enjoy a blissful and relaxing break with your loved ones. If you are wishing to hire out a cottage and you have children with you, then a great idea would be to get a holiday lodge that has ponies and horses roaming about where rides are possible.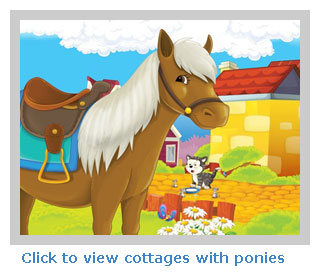 Kids love animals and renting a cottage on a farm or where ponies can be petted and fed on the grounds of your accommodation is a great way to ensure your children have a holiday that they will love and will never forget. Ponies are wonderful, friendly and good-natured creatures and seeing your children interact with them will warm your heart. Pony rides may even be able to be taken where the kids can go for a little walk or trot around the grounds. This is an activity that they will adore and it will make their break extra special.
For horse riding on holiday in England, or for cottage holidays where you can bring your own horse along to ride and look after, take a look at holiday cottages with horse riding.

Holiday cottages with ponies in the grounds come with all of the other facilities that you need on a self-catering break such as fully-equipped kitchens to whip up your favourite meals from home, television sets and DVD players, and a private terrace or garden, and they are decorated in a comfortable yet stylish manner. Renting one will be like visiting a home away from home and you and your family will settle in straight away to enjoy all that comes with cottage life!

Your accommodation may be located by the seaside or next to stunning mountain scenery where there is a lot to see, do and explore, but renting a self-catering cottage with ponies wandering through the grounds will provide that little extra something for the whole family to enjoy. If your children are animal lovers then being able to see and interact with these gorgeous creatures while on holiday will be something that they will enjoy and be excited about -it will almost be like an early Christmas present for them!
One of the very best locations to see ponies wandering freely in the countryside is in the New Forest, in Hampshire, south coast England. The ponies are restricted to the New Forest by a clever use of cattle grids and it is almost impossible to go there and not see several groups of ponies in woodland, on the heaths and even sauntering through a village. Other places to see wild ponies are Dartmoor and Exmoor national parks in Devon and Bodmin Moor in Cornwall. Of course the ponies aren't just for the kids, and so anyone can pet and enjoy them for a truly unique holiday.