Self catering family apartment for 12
large and spacious family holiday accommodation

Everyone looks forward to a summer break and in today's day and age when people are looking for value for money, it is sometimes cheaper to rent a large apartment together with friends to help reduce costs. Large self-catering apartments that sleep 12 are perfect for 2 families sharing and the cost per head usually works out cheaper than in renting two separate apartments.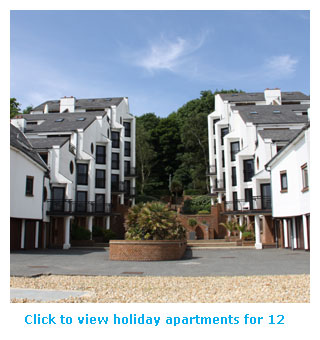 Take a look at some of the 12 person apartments that are currently available to rent for holidays in the UK and Ireland. Most of these will have 6 bedrooms.
Large self-catering apartments are often found in converted buildings, especially on the coast. A seaside break is top of most family's wish lists; a chance to sunbathe on a beach, go paddling, boating and generally have good traditional fun.
As an island nation, we have hundreds of beaches to choose from around the coast, from the north of Scotland down to the south of England. Among these are Blue Flag beaches and in the north of the UK, lots of pristine sand dune backed beaches that are uncrowded and uncommercial; perfect for family seaside holidays.
The weather on average is warmer in the south, however, the north of England and Scotland compensates for warmth with places such as the Moray Firth where it is easy to spot dolphins and watch salmon swim up rivers.
Aberdeenshire in Scotland has much in common with Cornwall in the south west of England. Both counties are built on granite and have similar coastal paths and views. Both have superb sheltered bays and beaches, old fishing harbours and fishing villages with old cottages clustered around narrow streets. There are acres of countryside for walks in both areas. Cornwall has a higher population and more tourist attractions, whereas Aberdeenshire relies on its natural attractions such as puffins on the coast and cliffs that teem with nesting sea birds. Visitors can have the pleasure of the freshest fish dinners at restaurants in both these counties and we recommend that you visit both of them to enjoy fabulous self-catering family breaks.