Holiday cottages with toys provided
a new selection of toys is welcome in a holiday cottage in keeping children occupied and happy

Leaving it all behind to escape to a holiday cottage retreat with the family is a great way for a fun break in a home away from home. Whether you want to rent a lodge buried deep within some gorgeous forestry with teeming wildlife scurrying around outside, or whether you wish for a large open plan apartment overlooking the sea with a stunning sandy beach on your doorstep, there is a cottage for every type of holiday. If you are taking children with you and do not wish to pack too much stuff, then you can rent a holiday cottage with toys provided. This is a great way to keep the kids happy without having to take all of their favourite dolls, gadgets and games with you in your suitcase, to make sure that everyone has a great break!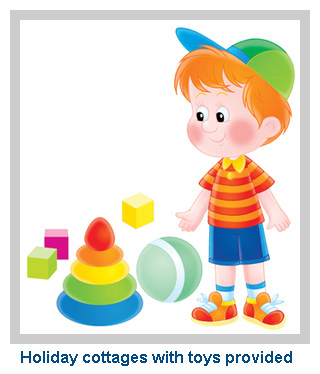 These holiday cottages come with toys for children from all age ranges, from the very small to young teenagers. With puzzles, board games, dolls, figurines, balls and everything in between, your children will really feel at home in your self-catering cottage, where they can relax and play at leisure in privacy. Along with home cooked food and a homely atmosphere, the only difference between being at home and being on holiday will be the change of scenery and location and the activities you will get up to, and so this is great for little children who may get a bit homesick and who aren't used to change, to start them off in the world of holidays!

Although your cottage may be nestled next to soaring mountains, beautiful lakes or within quaint villages with plenty to do, see and explore, there may be those days where the rain pours and everything comes to a standstill. On these days it is a wonderful family activity to sit around in the cottage playing a board game or a puzzle, while the little ones can play with the toys which have already been provided. The children will be delighted at the toys which are different from theirs at home and pleased to see any that are the same, and playing with them will certainly keep them happy during these rainy days.

Renting a holiday cottage with toys provided is the perfect way to keep the children happy when taking a self-catering break and it will be a trip that you will want to repeat for several years to come, until the kids grow out of toys, that is!