Thatched cottage for 4 people to rent for self-catering breaks
most thatched cottages are found in the countryside although some have been encompassed by spreading towns

It's the charm of a quaint thatched country cottage that attracts people. We love to coo and marvel over original features, exposed wood, large old fireplaces and nooks and crannies. It is the craftsmanship of old houses that amazes us, intricately built fitted cupboards and shelves in alcoves, picture rails and beams. There is a depth of character in old thatched cottages that is sadly lacking in modern homes, at least we can enjoy them over the duration of a holiday.
Rent a 2 or 3 bedroom thatched cottage for a family summer break and enjoy being in the country. Most thatched cottages are still to be found in the countryside although towns have encroached on some small villages merging them into one residential stream. The reeds used for thatching a roof are grown in wetland locations such as the reed beds of East Anglia, around the Norfolk Broads. As one would expect, Norfolk and East Anglia have a good number of thatched dwellings and even churches. East Anglia is a brilliant cottage holiday destination for family breaks. The entire area oozes history and has excellent recreational areas as well as good beaches.
In Devon, reeds for thatching are also derived from specially grown wheat. Imported reeds from the Continent are also commonly used to help maintain thatched cottages. The West Country of Cornwall, Devon and Somerset also has a good sprinkling of thatched cottages and farmhouses; many of which are now holiday homes.
The thatched village of Broadhembury in east Devon is a picturesque place to visit and stay. The village is small and surrounded by fields and country lanes with high hedgerows. Families would enjoy a stay here; the country views of rolling green hills are lovely, there are several seaside town on the south coast within half an hour's drive. Visit Sidmouth for acres of golden sand and fascinating rock pools, Seaton for a tram ride and the coastal walks from Beer are worth it just for the scenery. Children would enjoy the donkey sanctuary which is also free to explore, donations welcome.
Certain villages in Cornwall stand out from the rest. The fishing village of Cadgwith on the Lizard Peninsula is a gem on the south coast. It is a small village set above the cliffs and a sheltered bay. Fishermen still bring the catch home and sell it from a small shop. Spend a little time there and you will see the boxes of fish and crabs being unloaded off the fishing boats in the harbour and wheeled along the jetty. The local restaurants serve up some of the best fish meals anywhere. The beach is nothing to write home about but it is there and allows for a paddle in the summer. Plenty of artists and photographers visit Cadgwith because it is so picturesque and perfect. A collection of old thatched whitewashed cottages add an olde worlde charm.
Another superb thatched cottage holiday destination is the Isle of Wight, just off of the south coast of England, over the Solent from Portsmouth , Southampton and the New Forest. The Isle of Wight is a most unusual English holiday island; compact and mainly rural it offers a host of family delights and some of the best family theme parks for young children. The island is an exciting place for young children to visit. Discover real dinosaur footprints in the rock on beaches, search for fossils and visit the Dinosaur Museum. The Isle of Wight is very family oriented and visitors are frequently astonished by the warmth and friendliness of its local inhabitants. Rent a pretty thatched cottage on the Isle of Wight and enjoy an unforgettable family summer break.
There are thatched cottages in other parts of England but not as many as in the areas mentioned.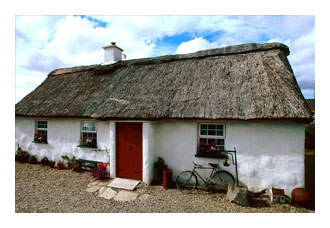 Old traditional whitewashed cottages in Ireland offer a simple self-catering holiday. Originally built to house rural families who eked out a living in the Irish countryside, these tend to be fairly small with small sized rooms, each opening onto another along a row. Some have been converted to a higher standard than others but only so much can be done because of the limitations of size and thick stone walls. It is quite normal to have central heating pipe work visible on the outside of a wall and original cast iron fireplaces.
Do write and tell us about any holidays in thatched cottages that you would like to recommend.