Pine lodges for 12
cosy wooden holiday accommodation for a groups and families, rent for a week or weekend break

Pine lodges often have those wonderful wrap-around verandas that provide a sheltered place to sit outside to take in the views or to quietly read a book on holiday. A pine lodge for 12 people is a substantial building that is likely to have a large open living area with plenty of comfortable seating for a family group of twelve people.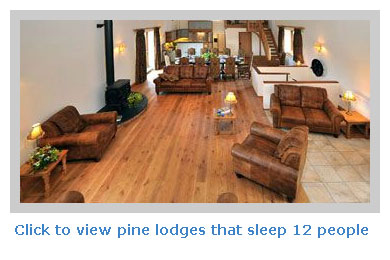 Pine lodges and log cabins tend to be the self-catering accommodation of choice in the UK. Log cabin and lodge holiday parks are replacing caravan parks up and down the country. Much more spacious, well insulated and sited in rural setting, the pine lodge is a good form of holiday accommodation.
When designed for self-catering holidays, pine lodges are well thought out and come with everything that a family needs to cater for themselves during a holiday. There are kitchens with built-in cupboards that stow food and utensils away tidily, pine clad bathrooms and bedrooms ; everything has a cosy feel and is easily swept out and cleaned between holiday lets.
Colourful rugs soften the sound of food on wooden floors and add comfort and extra warmth to rooms. Holidaymakers are often surprised at how organised a holiday pine lodge can be. There are spaces for suitcases on top of wardrobes and built in cupboards and storage for various things leaving the floor space clear and uncluttered. All these features add to comfort and wellbeing on holiday.
You may already know which part of the UK or Ireland you plan to holiday in and are interested in looking for a pine lodge in that destination only. Pine lodges and log cabins are found in all kinds of settings although they look most natural in a woodland setting or by a lake. Fishing holidays in cabins around a lake are a popular choice. A whole range of cabins for fishing holidays is available, ranging from basic eco cabins to 5 star luxury lodges with their own outdoor spas or hot tubs.

Do consider a pine lodge as holiday accommodation for 12 people, we think that you will be delighted with your stay.