Self-catering accommodation with a gym for guests
continue your daily work out during your holiday if you wish

Self-catering holidays are wonderful for escaping from the routine of everyday life and exploring an entirely different and beautiful setting in the UK. Whether you choose to relax by the beach in Bournemouth or Brighton or within stunning scenery in the Lake District or the Yorkshire Dales, you are guaranteed to have an amazing holiday where you can unwind in peace and privacy, cook your own meals and enjoy your accommodation as though it is a second home.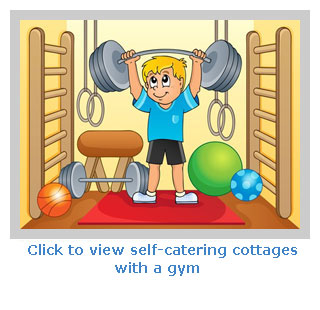 If you go to the gym regularly back at home and like to continue to keep fit while you are away then you will be pleased to know that there are plenty of accommodations you can rent which have a gym which is fully available for guests to use. These family-friendly cottages and lodges that have a fully-equipped gym on site ensure you don't miss out on any training and working out when on holiday!

From the treadmill and exercise bikes to weight machines and aerobic steppers, the gym is a fitness haven and if you like to pump some iron and keep in shape regularly, you may not want to miss out on your regime while on holiday. Renting a family friendly self-catering cottage, house or lodge in a beautiful part of the UK with guest access to a swish gym on the grounds of the accommodation is the perfect answer to your concerns, and you will easily be able to visit it daily to keep up with the exercise you do at home. Some gyms within family cottage complexes even come with swimming pools, so you can do lengths in the morning before or after a gym session, to really keep fit and healthy when on holiday!

Family-friendly cottages are convenient and wonderful for those with babies and children. They come with cots in bedrooms and highchairs in your fully-equipped kitchens and dining rooms, where you can all gather around and enjoy a lovely home cooked meal. There are also often private gardens for the little ones to run around in, as well as facilities such as a games room, board games and toys for children to play with on days where you and your family feel like staying in and taking it easy.

During these times or if there is a rainy afternoon which calls off other activities, it may be the perfect moment you to head over to the gym on the grounds of your accommodation and lift some weights or go on a running machine. Whether you work out to keep fit and healthy or to unwind and get some adrenaline pumping, knowing that you have such easy access to a gym when on holiday is a lovely luxury that you will love. There are lots of family friendly cottages available to rent with this added bonus, and you can be off exploring an incredible part of the United Kingdom and at the same time continue to keep up with your gym routine much sooner than you think!