Holiday cottages where 3 dogs are permitted
Pet friendly self-catering holiday cottages that meet your needs

Looking for a holiday cottages where all your little darlings can go with you is not easy. So many holiday cottage owners allow only one dog per cottage, but all is not lost, there are cottages for you if you are flexible about location. The ideal is a cottage in the country with a large garden.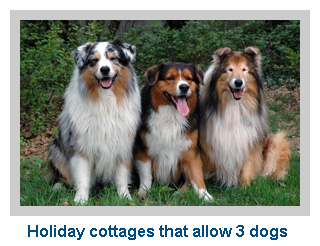 Always talk to the owner or manager of your holiday accommodation before making a booking when accompanied by 3 dogs. Double check that the cottage owner is happy with the breed you have and it helps to be on good terms during your holiday. You may also find out something more about their provision for dogs, the nearest vet, places for walks and dog friendly pubs.
Click on the image displayed to view a list of cottages where 3 dogs are perfectly acceptable.