Thatched holiday cottages for 10

What could be more beautiful and unique than a thatched cottage, exuding its magical olde worlde charm and transporting you to an idyllically peaceful world where time isn't an issue.
Thatched cottages are nothing new having been around for centuries. They still exist throughout the world in various guises. Be the thatch straw or reed, each one is special, and a showcase for the creativity and craftsmanship of its thatcher. England is particularly fortunate in still having some very pretty examples, though not so many as for them to lose their uniqueness. Although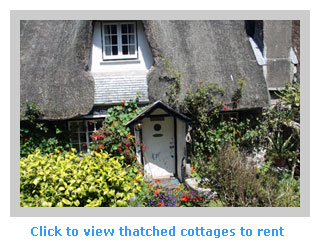 more expensive to maintain than regular roofs, their beauty and individual style of thatch, still puts them on many a person's wish list.
If you're one of these people, now is the time to turn your wish list into reality, albeit temporarily. Many of these charming thatched cottages are now available throughout Great Britain and Ireland as quality holiday cottages. Their traditional and homely atmosphere makes them a perfect choice for a family break.
The larger properties are particularly special, oozing luxury. Additionally, they sleep as many as ten comfortably and thereby qualify as an ideal choice of venue for that extra special celebration. What better place to celebrate mum and dad's 50th wedding anniversary! They'll feel like landed gentry as they arrive outside the picturesque façade. Meanwhile, the spacious, tastefully decorated and furnished interior, will provide the gloss needed for such an important occasion. The beautiful massive mature gardens in which many of these cottages are set, overlook panoramic views: a superb backdrop for photos of that once in a lifetime special occasion. An added extra is that there's bound to be a little peaceful spot somewhere amongst the trees and bushes, away from prying eyes, to quietly sleep off the excesses of the party.
Whatever the size of the thatched cottage, there is always an air of romance around it. Whether the thatch is of straw or reed doesn't really matter, it still conjures up barns, haylofts, haystacks and by deduction the fun and games of milkmaids and farm lads: the sleep 10 thatched cottages, are a made to measure solution for Hen Parties. Guys can make do with an old pub in some back alley, but girls need at least a week in a place where they can feel pampered. In such a charmed and luxurious environment the bride, surrounded by her friends, will look forward to her big day with joy and excitement.
Whether you are wanting to chill out or are looking for a venue for a celebration with family and friends, sleep 10 thatched cottages should be on your list. A pretty façade is guaranteed regardless of the age of the cottage or whether it is listed. Inside there will always be mod-con tucked away amongst period features. Whilst, the spacious rooms boast stylish décor and quality furnishings that will surely meet the approval of even the most discerning client.