Self-catering family cottage breaks in the Channel islands
The islands of Guernsey, Jersey and carless Sark are just a short distance away

The Channel Islands lie off the northern French coast of Normandy and consist of Guernsey and Jersey, with six smaller islands that are a part of Guernsey. Taking your family on a self-catering break to one of these charming and beautiful islands in the England Channel is a great way to experience an entirely different atmosphere and explore a place that you haven't previously been before. Jersey is the larger of the two islands and is home to miles and miles of sandy coastline, with gorgeous bays and rugged cliffs, and Guernsey, the small of the two, features a stunning harbour and a number of islets.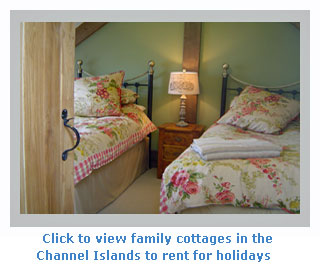 The Channel Islands are not far at all from mainland UK and make a very different cottage break than the usual one to Cornwall or Devon. Jersey is a great choice and its only town, St Helier, which is the capital of the island, is mostly made up of rolling countryside. If renting a family friendly self-catering cottage in St Helier then you will find that there is plenty to do, and a must-see place is The Central Market in Beresford Street, which dates back to 1882. This indoor market is an official Site of Special Interest because it is housed within a Victorian building with a wonderful fountain as the centrepiece. Items on sale at The Central Market include fresh fruit and vegetables, and there are individual boutiques and tea cafes as well to visit.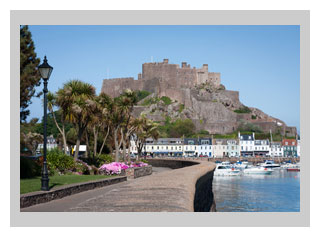 Jersey is also home to a number of museums and entertainment venues including the Maritime Museum, the Jersey Arts Centre and the Jersey Opera House.

Guernsey is wonderful island steeped in rich heritage and history. The stunning St Peter Port is the capital of the island and is home to narrow streets, many markets, a harbour, an aquarium and the historic fortress of Castle Cornet, and it is a charming and peaceful place in which to rent a cottage for a family break. Hauteville House is the former home of French writer Victor Hugo, which is now a museum and should definitely be visited if staying in St Peter Port. Hugo lived in Guernsey during his exile from France and even wrote the classic novel Les Miserables while on the island.

Family friendly cottages in the Channel Islands come equipped with everything you will need on a self-catering break, such as fully-equipped kitchens, TVs and DVD players, comfortable sofas in living rooms and cosy beds in bedrooms. They have great bathrooms with power showers and large tubs, and some even have private enclosed gardens. If you are travelling with babies then it may be useful to know that cots and highchairs are available for the little ones and to make your break less stressful, and some cottages also come with games rooms that guests can use, for rainy afternoons!

The Channel Islands of Jersey and Guernsey, plus the smaller islands and islets that make up this beautiful region, make a great place in which to have a self-catering holiday with your family as it is different and you can explore and discover and completely new place.