Holiday cottages with a games room - fun for the entire family
games rooms are a boon in bad weather or during the evenings when you return after a day out

When on a self-catering holiday with your family and friends there will often be a lot to see and explore outside of your cosy rented cottage. From talking relaxing walks by the striking sea to visiting local museums and exciting theme parks, these breaks are perfect for going at your own pace and kicking back in a stunning part of the UK. There will be those days, however, when you and your loved ones just want to stay within the vicinity of your accommodation, be it because the weather is bad and the rain is pouring or just because you feel like a lazy afternoon, and renting a holiday cottage with a games room is the perfect way to ensure that you will always have plenty of fun!
What does a holiday cottage games room contain?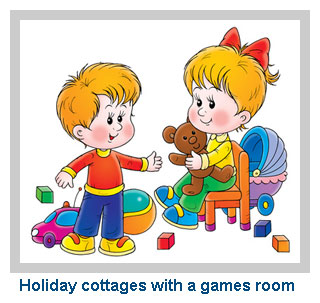 Games rooms come equipped with anything from air hockey and ping pong tables to arcade games and football, and being able to challenge your friends to one of these games while on your holiday is a great way to spend an afternoon of enjoyable entertainment! Snooker and pool tables are popular in games rooms and whether you want to have a friendly game with the family or if you wish to make friends with other cottage-dwellers and have a bit of a competition, the games room is always open to those who need it!

There will be plenty of things for you to do and discover on your self-catering cottage holiday and lots to do within the accommodation grounds as well. Often you will have your own private garden which is great for kids to play in, and there can be swimming pools and trampolines within the grounds. Having a games room is a great way, however, to include everyone who you are travelling with in a spot of amusement, and if the rain pours you will know that there is always something fun for everyone to do!
Children enjoy plating games with their parents during a holiday

Holiday cottages that have a games rooms add the perfect extra touch to your self-catering break. Being able to play pool or snooker with your friends and family whenever you wish is something that you will love and appreciate and you will never want to have another holiday without this amenity! Most holiday cottages have board games for those wet days or tired evenings. As these fun games and tables are within close proximity to where you are staying, it is a wonderful treat and you may find yourself visiting daily and not being able to tear yourself away!