Holiday apartment for 8 to rent in Cumbria - the Lake District
and many other UK locations

Cumbria is a county in the North West of England and is home to many quaint villages and towns, as well as the Lake District National Park – one of the most striking areas of natural beauty in England. Renting a holiday apartment that sleeps 8 in Cumbria is a great idea for if you are going on a break with a large group of friends or with your family, as you can experience all that this incredible county has to offer in rented accommodation that will soon come to feel like a second home.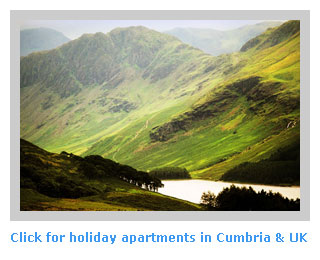 If you are after peace and tranquillity on your self-catering break in Cumbria, then you have chosen the right county because it is one of the most sparsely populated counties in the UK, meaning you won't bump into hoards of crowds! The largest settlement in Cumbria is Carlisle and there is a lot to see and do here in terms of history and culture. It is home to the impressive Carlisle Castle which dates back to the 11th century and is certainly worth a visit along with its museum. Carlisle is also close to the ruins of Hadrian's Wall. Construction of Hadrian's Wall begun in AD122 and much of it is still visible today, making it a fascinating visit and a must-see if you are planning on renting a holiday apartment nearby.
The Lake District National Park is a great choice of place in which to rent accommodation for 8 in Cumbria as there is so much to see and do here. Home to Scafell Pike, the tallest peak in England, and Lake Windermere, the longest lake in England, it is full of culture, history and areas of awe-inspiring natural beauty, making it the perfect holiday destination for a large group of 8 as you will never be short of things to do.
Dove Cottage, the former home of Romantic poet William Wordsworth should definitely be visited if you have a love for literature, as should The World of Beatrix Potter, who used to live in Lakeland, as it is affectionately known. This incredible centre is brilliant to take kids to and you can see displays of Peter Rabbit and co. as well as get an insight into the area which inspired the children's author and illustrator to create these timeless characters. Ambleside, Keswick, Grasmere and Bowness-on-Windermere are all fantastic places in the Lake District in which to rent a holiday apartment for 8.
Barrow-in-Furness is a seaport in Cumbria which has a rich history and is home to plenty of places to visit including the 12th century Furness Abbey. Cumbria is mostly rural and is a beautiful county, and renting a large and spacious holiday apartment with comfortable rooms and living areas and a fully-equipped kitchen will be a fantastic base in which to explore all that Cumbria has to offer. By day you can go on lake cruises on Windermere and by night you can relax in front of the TV with a DVD and your closest friends, for pure relaxation and bliss in Cumbria.