Large self catering accommodation to sleep 22
Big houses for group holidays

Going on a self-catering break with small groups of friends and family is always fun, but if you want to gather up the whole clan and take everyone away with you, then why not consider renting a large accommodation that sleeps up to an incredible 22 people?! These accommodations can either be a large house, a cottage or a manor house, and with a vast amount of bedrooms that can easily put up groups as big as these, it is easy to take all of your loved ones with you on holiday and whisk them away to a wonderful retreat where no one will be left out!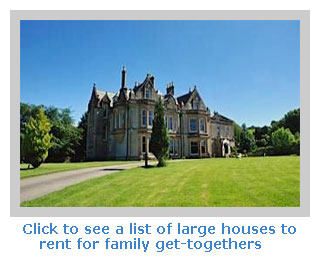 These large accommodations are perfect for special family occasions such as birthdays, engagements or other celebrations of this kind, where you can gather everyone up to celebrate today for a few days in style! They are even fantastic for large groups of hen or stag dos, where you and your friends can explore your new surroundings by day and by night, paint the town red before crashing in your comfortable manor house! It is a very exciting prospect to think of up to 21 of your friends and family joining you in one big dwelling where you can have lovely gatherings with everyone and meals together.

Lots of these accommodations come with swimming pools and fixed BBQs in private gardens. During the summer months it is wonderful to gather everyone up from gallivanting about your new surroundings and have a lovely BBQ under the sun or a pool party. These are moments that you will remember and cherish forever and you will probably want to repeat this type of holiday during many family occasions and celebrations!

You may choose to rent a large house by the seaside, in somewhere like Scarborough or Blackpool up north, or Brighton, Devon or Cornwall in the south. Beachside accommodations are brilliant as there will always be plenty for your party to do, from swimming, sailing and snorkelling in the sea to playing beach volleyball and sunbathing on the sand. Coastal holiday towns and villages have plenty of charming little cafes, pubs, shops and restaurants for you to get a taste of the local way of life, and all 22 of you will feel right at home after exploring your surroundings!

If you are more into landscapes that feature forestry, mountains and lakes, then places such as the Lake District in Cumbria or Snowdonia in north Wales are perfect for holidays that involve active things like cycling, trekking and horseback riding. It is extremely fun to participate in these activities with such a large group of people, and you will feel even more of strength of bond with your friends and family who you are already close to!
It can be tough to arrange a holiday for such a large amount of people, but if you are looking for one place in which all 22 of you can stay, then there are accommodations that can hold groups like this, dotted all over in picturesque parts of the UK.