2 bedroom pine lodge holiday for families of four
small pine lodges that sleep just four people in a double and twin bedroom

There is something compelling about pine lodges. It might be the scent, it might be the backwoods pioneer spirit or something from our childhoods, but both kids and grown-ups are drawn to them. For families of 4 wanting holiday accommodation, there is lots of choice with pine lodges offering wonderful features in lovely locations.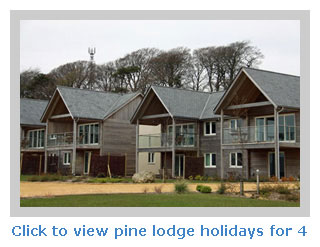 Many such pine cabins sleeping 4 people or more are to be found in woodland settings. They may have a simplistic vibe around them, but many go way beyond basic amenities. Well-equipped kitchens for self-catering and en-suite bathrooms are very common and most have washing machines and dishwashers. Some even have indoor or outdoor hot tubs or saunas. If your pine lodge is in a complex of several lodges, there may be shared facilities, such as an outdoor swimming pool, a games room and play areas for children. Imagine eating out on the decked veranda and drinking wine as the sun dips below the trees. These kinds of holidays can combine relaxation with a hobby, such as fishing, mountain biking or horse riding.

Wherever you care to visit in Britain, a pine lodge will not be far away. The kids can play at Robin Hood and the Sheriff of Nottingham in Sherwood Forest. In the New Forest, you can enjoy walking in lovely woods and seeing the famous New Forest ponies. One of the most popular holiday destinations is the Lake District, of course, where pine lodges fit well into an environment of rugged fells reflected in tarns and lakes. After a day's walking or a cruise on one of the lakes, a tasty supper in front of an open fire is just the ticket.
For more fabulous scenery and majestic mountain landscapes, Scotland has its share of pine lodge complexes too. Naturally, it is the spectacular scenery of Scotland that draws holidaymakers. Although the cities of Scotland are all worth visiting in their own right for culture, shopping and nightlife, it is the countryside that provides the greater pleasure. Follow the coastline and you'll encounter seals, dolphins and thousands of birds. Go into the Highlands for jaw dropping mountain scenery and the thrill of spotting herds of deer or eagles soaring overhead in search of a tasty rodent. Pine lodges sit very well with the landscapes of Scotland. There are pine lodges beside lochs, in the forest, on the mountains and surrounded by heath and heather. Take a look at some of the pine lodges to rent in Scotland for a family break.

A small family will feel very cosy in their temporary home, with echoes from a simpler way of life combined with modern amenities. Whether you stay in a single lodge, perhaps in a remote location, or as part of a purpose built holiday complex with all mod cons, you will have an amazing time.