Child-friendly self-catering holidays for up to 8 people in the UK
4 bedroom properties to rent for family breaks

Want to escape the everyday routine for some fresh air and exercise without a long car journey? If you live in the London area or the Home Counties, West Sussex could be the ideal location for a relaxing break. It's a county packed with sights to see, things to do and interesting places to visit. Whether you enjoy the countryside or the coast, West Sussex has it all. You'll find stately homes, market towns, rolling countryside, pretty villages, and the lovely Sussex coastline.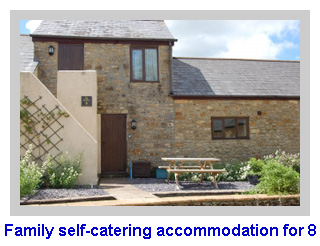 Maybe you are two families looking to enjoy a break together, or a family plus grandparents. If so, the odds are that you will be looking for spacious, comfortable self-catering accommodation for up to eight people. In a well-equipped property with a fitted kitchen, you will be able to cook as much or as little as you wish and there will be plenty of room for preparing family picnics. Freedom of choice is one of the bonuses of self-catering – no stuffy hotel restrictions such as set meal times and menus. Mums will appreciate a washing machine and drying facilities for muddy clothes and damp towels. Let the children run free in the garden. Find a secret corner and put your feet up!
The rural area of the Clymping Gap is a long stretch of natural coastline which runs along the shoreline between Worthing, Bognor and Brighton. It is particularly attractive to walkers as there are numerous footpaths around the village of Clymping. They provide access to Clymping beach, a favourite with horse-riders, wind surfers, kite surfers and dog-walkers and also to the River Arun and the surrounding countryside. Cycling enthusiasts can cycle in safety on the South Coast Cycleway. The area enjoys more sunshine hours and is drier and warmer than other locations in the South of England, as it has its own microclimate.
If you rent a property in this area you will find shopping facilities in Clymping Village and at the superb local Farm Shop which is very well stocked with locally-sourced products and a superb variety of homemade cakes and breads. If you fancy a rest from cooking, the village pub serves good traditional fare.