Self-catering accommodation in a town
always convenient for shopping, eating out and entertainment during family breaks

Self-catering holidays are very different from going on an all-inclusive break where all your meals and drinks are included. They give you the freedom to be able to try out the local delicacies and restaurants nearby, or create your favourite meals in the comfort of your accommodation in your fully-equipped kitchen. You are able to relax in evenings in front of the TV with a glass of wine after a day of exploring your new surroundings, and best of you, you get to do so in privacy with your family and friends – the people you love the most.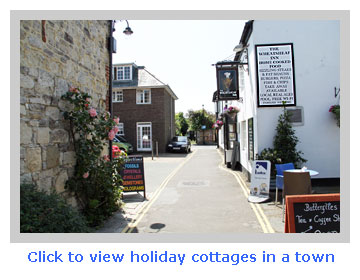 Renting self-catering accommodation in a charming town in the UK is a great way of escaping from bustling cities and discovering an entirely new settlement. Whether you choose to find a town on the coast such as Scarborough in North Yorkshire or Margate in Kent, or a quaint market town inland in spectacular scenery such as Kendal in the Lake District, you are bound to have a fantastic time in your rented cottage or house as you see and do new things with your loved ones.
The photograph of Yarmouth, on the Isle of Wight, is shown on the right. This small town has that lively holiday atmosphere, a promenade, beaches, lots of shops and offers access to the tourist attractions on the island because it's a small island that is easy to travel around. There are two theme parks, a zoo, sea life centre, potteries, soft play for children, a dinosaur museum and many seaside amusements. You may wish to take a look at self catering cottage holidays in Yarmouth.
Another good reason to holiday in or close to a town or city is the number of visitor attractions is generally higher. Young children love to visit a zoo and these are usually located near a large population to guarantee enough visitors. Take a look at family self-catering holiday cottages near a zoo for fun days out.

These accommodations may be cottages, pine lodges within a forest, beach chalets, bungalows or large houses, and each are located within a charming town in the United Kingdom. As well as a fantastic kitchen for you to prepare meals and snacks, they come with large, comfortable bedrooms, some en suite, stylish bathrooms with great showers, television sets and DVD players, and some have private gardens with fixed BBQs. Going on a self-catering break with your family and friends is a great way to spend some quality time together and you will certainly feel like your accommodation is a second home!

If you are coming from a city to your rented lodgings, then a town may be the perfect balance between a large metropolitan area and a quiet hamlet or village with not many residents. Towns are usually vibrant with their own character and charm, with a blend of unique and individual shops and cafes and the usual high street stores, providing you with everything you will need on a self-catering holiday. With history and culture, you will never be stuck for things to do if you rent accommodation in a lovely town in Scotland, England, Wales or Ireland, and if days do get busy then you can rest-assure that your evenings will certainly be relaxing in the privacy of your lodge.

Renting self-catering accommodation in a town is a lovely way to spend a holiday with your family and friends for a week or so, finding out about a new place in the UK and unearthing new and exciting places. Within the comfort of your cottage, house or bungalow, you can relax, read, play board games, cook and generally chat and have fun with the people you are on a break with, and by the end of it all you will probably find it very hard to leave!