Children welcome holiday cottages for 12
rent a big cottage, apartment or house for a holiday with more people

Self-catering accommodation for 12 people is popular when it comes to family get-togethers. It is often difficult to accommodate everyone when married children with children of their own visit their parents for special occasions. This is when self-catering accommodation comes into its own and provides the necessary number of bedrooms and the all important dining room with a large table that seats the entire group of 12.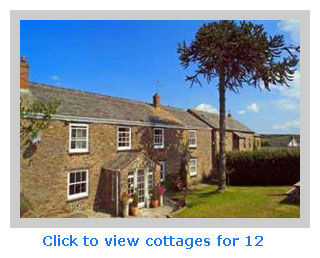 Every year, families come together for Father's Day, Mother's Day, Christmas, New Year and occasionally Easter. Most families simply do not have homes large enough to accommodate everyone. Renting a holiday home for 12 serves a dual purpose; it gets families together and also gives everyone a break somewhere different. It may be very nice having those meals and catching with people but it's also rather nice to visit the local attractions. It does not matter if everyone has different interests because it gives people something else to talk about when they return.
The older generation may be more inclined to visiting open gardens and stately homes, younger people may want to indulge their sporting passions or take young children to parks and playgrounds.
We often feel so much better for having that weekend break away that we wonder why we don't arrange one such for fun rather than wait for that special celebration.
Self-catering accommodation for 12 usually means a large 6 bedroom house or apartment. Click on the photograph of self-catering accommodation shown to view the type of accommodation to sleep 12 people on offer and see if you could be persuaded to plan your next family gathering.