Cottages beside fishing lakes
Rent a family self-catering cottage or pine lodge and teach the children to fish

The cottage is absolutely lovely, but this is what we have come for, thinks Tom, gazing around fondly at the wide expanse of still calm water before him, the fishing pond. It brings back memories of a happy rural childhood and Sundays spent knee deep in water with his dad. Brought up on tales of catching bucket loads of fish, his kids are eager to prove that they can do better.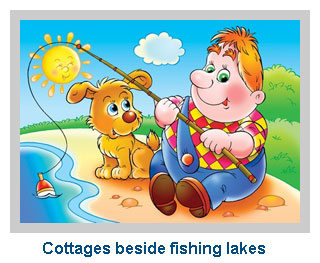 As he, his wife Joanna and their three youngsters happily tramp along the banks of the pond, Tom explains that they are looking for a suitable position where the fish will bite. "They like areas where they can hide, such as here", he says, pointing to an area with reeds and pieces of old broken off wood.
Equipment and provisions unpacked, Tom patiently explains the basics involved in fishing such as how to attach bait. Soon parents and children are settled on the bank of the pond, each lost in their own thoughts. Tom and Joanna are both enjoying the stillness around them, so rare with three young children ages two to nine. They watch smiling, as birds do aerobatic dances occasionally diving close to the water. An hour in, they refuel with sandwiches and orange juice. It's becoming a struggle for young Freddie to remain still and quiet so Joanna leads him off for a stroll in the surrounding woods.
The other three sit in perfect silence. All of a sudden they hear a splash and Tom whispers that there are fish about. Young Susie feels her line moving and nearly lets go of it in surprise. Fortunately big brother Mike is on hand and quickly lends a hand. Slowly and quietly the two youngsters land their first fish - it's a big one. By the time Joanna and Freddie arrive back from their stroll, there are five big fish in the bucket and a couple of smaller ones. Day one of a new experience behind them, a happy family heads for home.
That evening on the patio, the aroma of grilling fish blends with the scent of the herb garden. "There's nothing better than freshly caught fish" exclaims Tom, as he takes another forkful and raises a glass of chilled wine in celebration of a wonderful fishing holiday.
In these days when more and more families live in towns, it's great to get out into the country. Holidaying by a fishing pond, adds the additional benefit of being able to put fresh food on your table, while enjoying fresh air, open spaces and that so hard to obtain commodity, stillness.
Look out for family sized holiday cottages that have fishing ponds on the owners land or nearby. There are a number of them in the countryside, some within the national parks, spread throughout Great Britain and Ireland. They make for a happy, fun holiday, in all types of weather, whichever the season and appeal to all ages, rookies and experienced anglers alike. Happy fishing.