Holiday Farmhouse for 12 to rent
have a fabulous country break with myriads of walks in flower rich meadows

A six to seven bedroom farmhouse should be ample accommodation to allow a family of 12 sufficient room and private space to have a good holiday in the country.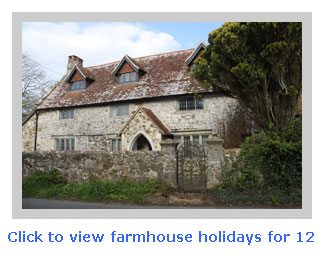 The nice thing about staying in a rural area are the open views, the greenery and numerous walks through meadow and woodland. Something unexpected is often encountered, it could be a wild animal or a rare species of wild flower. Stay in Devon and the south west and you may be lucky enough to come across wild orchids, badgers and otters. Go north to Scotland and you could just spot a wild cat, an eagle, osprey or deer.
Farmhouses are wonderful for large groups. If there is an Aga or similar stove in the kitchen that sends out a warm glow around it, it inevitably becomes the central hub for the house and everyone gathers there. A large wooden table to seat 12 people is needed when self-catering and is wonderful for dinner and also as a work surface for preparing sandwiches and snacks for packed lunches for days out.
Getting the bed arrangements right can be challenge with groups of 12 or more. Single people do not want to share double beds so it's important to ensure that each person is satisfied with their sleeping arrangements.