Secluded cottages - where you can hide from the world
enjoy that private time with your family in a peaceful hidden spot in the UK or Ireland

Less than half a mile out from an old medieval market town, you turn off the steep main road onto a winding dirt track, slightly obscured at road level by bush and forest. You bump along for 10 minutes before arriving at your destination. As you park the car you're greeted by the cheerful owners of the cattle farm and invited to share an afternoon tea complete with home baked cake. Suitably refreshed, they guide you over to the far side of the farmyard. There hidden partly by birches and a great old oak is a path leading up to a beautiful pale stone barn conversion.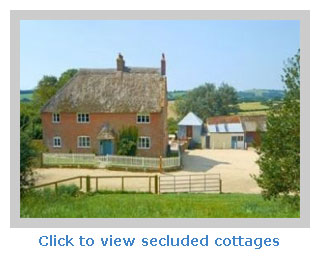 Through the bright red wooden door, you enter directly into a splendid brightly lit, spacious, open plan contemporary living space. You consciously note the big open fire and the stylish comfortable quality furnishings that create such a relaxed atmosphere. At the far end is a door leading to a large dreamy bedroom with a superb inviting king-sized bed, covered in a lovely fluffy duvet dotted with small colourful decorative cushions. The en-suite bathroom flaunts a double shower and a jacuzzi.
Having stopped off, on your way in, at the farmers market in the nearby town, you're all set to try out the BBQ that is set on a pretty raised ocean blue slate private patio at the back of the cottage. It looks over the town and countryside beyond. As you lounge on the comfortable wooden seats with brightly coloured padded cushions, surveying the stunning panoramic view for interesting locations to explore over forthcoming days, the scent from the herb garden alongside imbues you with a feeling of contentment. As the sun sets turning the sky a bright red, you raise a toast to your good fortune in finding such an idyllically secluded cottage, perfect in every way and sited near so many diverse local attractions.
Enjoy a holiday at one of the many secluded cottages available throughout Great Britain and Southern Ireland. They can be found in coastal locations and even on islands. The National Parks with their diverse terrains, have many tucked away near towns and on the edges of quaint old villages. They are secluded but never remote, so you'll be a step away from walking, cycling and hiking trails. Steam railways stand ready to transport you through scenic and historic vistas. And always you'll find restaurants, shops and a friendly local traditional pub just a short car ride away.
Secluded cottages are heaven sent for romantic breaks with a loved ones but work equally well as chilling out zones: with family, friends or even alone. Immerse yourself in water-sports, go for a gallop along the waterfront, work on you golf handicap or just enjoy a good meal cooked by someone else. These are just some of the joys to be experienced on a secluded but not remote cottage holiday.