Self catering family cottages with a hot tub
rent a good quality cottage for a family break with a few frothy extras

Thoughts of your family self-catering holiday in Britain. After a good breakfast cooked up inthe kitchen of your comfortable holiday cottage or log cabin, you decide to get the kids on their bikes and enjoy a day out in the countryside. The cycling trail is taking you through an amazingly diverse landscape. Up winding hills and through small woods where you can hear birds chattering away to themselves. The adults in the party are struggling to keep going, constantly hoping for a flatter terrain, but the kids are zooming around taking everything in their stride, as kids do. Its a good 10 years since mum and dad were on bikes and their calf muscles are killing them as, the truth be known, are the rest of their bodies.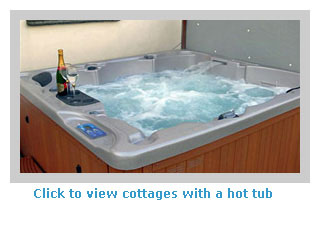 It has been a beautiful day: bright and sunny, and an opportunity to spend quality time with the kids. They haven't argued with one another all day – a bit of a miracle. Not even when mum insisted on taking the tour of the NT stately home and they wanted to go for ice cream instead. A compromise was reached the tour first followed by the ice cream.
Who will be in the cottage hot tub first?
Now they are on the home straight and can see their holiday cottage just up ahead. This is enough to persuade everyone to find sufficient energy for a burst of speed, regardless of tiredness. There is serious competition to be first into that hot tub.
The kids rush to change into their swim gear. Tim thinks he is first only to get onto the patio and see mum already in the hot tub. She's leaning back luxuriating in the soapy bubbles, her eyes closed and a look of sheer joy on her face. The exertions of the day are completely forgotten as she appreciatively soaks her tired and over stretched limps. It can't get better than this she mutters to herself just as her husband appears, with a couple of glasses of chilled wine: perfection she says reaching for a glass.
Just then there is a splash as the twins jump in and water flies out of the tub. Both parents laugh and relax enjoying the sight of their happy children attempting to keep their seats as the jets try to knock them off.
Hot tub cottages are enjoyable for the entire family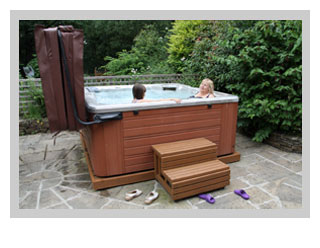 Hot tubs always introduce the element of fun to a holiday and, are now to be found, in holiday cottages of all sizes, in a variety of locations: rural, coastal and middle of town, throughout Great Britain and Ireland in all kinds of locations. They are perfect for family holidays giving a opportunity to increase quality time together, whilst engaged in a fun activity, that's bound to bring everyone closer together. One thing to check is whether there are any lower age limits. People would be sensible enough not to take very young children into a hot tub but there are often limits that specify a minimum age and health restrictions.
Grandmas love hot tubs
Further, hot tubs appeal to all ages. Bring grandma along for the trip, she'll soon forget all her pains as she relaxes beneath the bubbles with the grandchildren. For sporty families a hot tub has got to be a must to ensure that muscles don't get over stretched on those long hikes and cycle rides.
Wherever you chose to go, a hot tub in your holiday cottage will add yet another layer of luxury to a holiday package that already includes a beautifully decorated and furnished cottage, in an attractive location. Enjoy.