Holiday cottages with a children's playground
allow the children to race around and tire themselves out happily

Going on holiday with your children can be a stressful experience if you find that there is not much for them to do to keep them entertained. If you choose to rent a holiday cottage with a children's playground in the grounds of the accommodation, however, then you can be sure that they will have plenty of fun and will not be bored at all! It is a wonderful idea to gather up the family for a self-catering break in a stunning part of the United Kingdom where you can unwind at your own pace and cook your own meals, and if there is plenty to keep the kids occupied then you will be sure to have a break that you will wish to repeat for many years to come.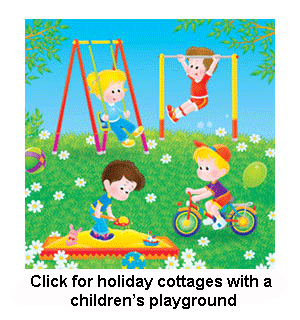 Children sometimes have short attention spans and if they go on holiday they will want to keep active in all sorts of ways. Having a great children's playground for all ages of kids within the grounds of your hired cottage is the perfect way to ensure that there will always be something for them to do on the days where you feel like just staying in and not doing much. You can keep an eye on them and still be very close to your lodge, and your children will have loads of fun and will make friends and memories while playing in the playground.

With slides, climbing frames, roundabouts and monkey bars, there is much to keep children occupied on your self-catering cottage break, and they will love being able to play daily, as the playground is within the accommodation's surroundings. There are often sand pits and water areas for very young children and toddlers to enjoy, so that any kids you have will not feel left out and everyone can join in on the fun!

As well as being able to explore your surroundings, go on day trips, visit local attractions and soak up the natural and historical surroundings of the place that you have chosen for a cottage family break, you will know that there is always something for your kids to do to keep them happy, to make sure that your holiday is loved and enjoyed by every single family member. Renting a holiday cottage with a children's playground is the perfect way to ensure that you and your children have a trip to remember and perhaps go on again in the future.
The ultimate playground for children and adults alike is a theme park. We have numerous theme parks up and down Britain. Take a look at holiday cottages near a theme park and see if we can entice you to have a family holiday there. At least you can visit over a number of days if you're on the spot.