Family Cottages for 4
self-catering is the best way of taking a family holiday

Take the kids on holiday and stay in a self-catering cottage or pine lodge that is yours alone. In Britain and Ireland, there are hundreds of small 2 or 3 bedroom holiday cottages to sleep up to 4 people to choose from. You could stay in a secluded cottage in woodland, a cottage in a seaside town or on a holiday park that offers lots of entertainment and leisure facilities.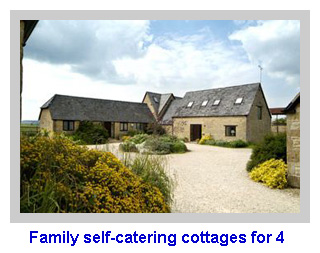 Self-catering holiday costs for four
Prices for family self-catering accommodation varies depending on where you stay, the standard of the accommodation, which part of the country it is in and on who owns the cottage. Most families are pleased to have good clean comfortable accommodation without luxury accessories or décor that could be inadvertently damaged by children. We don't want to constantly watch the children on holiday or worry about baked bean spills on the expensive silk qum rug. Children want to be able to play and run around without a care, so the more practical and robust their environment, the better.
Sometimes, a bond or damage deposit is paid when renting a cottage. This should be returned when you leave assuming that your family haven't caused any damage. Unfortunately, accidents happen, and should anything get broken, do inform management so that they are aware and can replace the item for the next family. Children cannot help but be boisterous and holidays raise everyone's excitement levels.
The big decision is about where to look for that cottage for 4. A few suggested locations are below:
A family cottage holiday for four people in the Peak District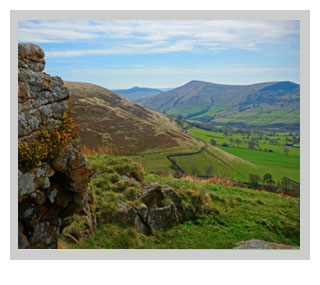 The hills and moors of Derbyshire are peppered with sheep. It's really nice for the whole family to get out into the country for walks among the sheep and enjoy the green and pleasant pastures. Mum and dad can marvel at the beautiful scenery, waterfalls and crystal clear streams, children will undoubtedly find alternative pleasures such as jumping over the sheep poo and counting the black sheep. Caves are a traditional visitor attraction and it's possible to take a boat ride in some of the extensive caves with low roofs and threatening stalactites; children will love it. There are plenty of things to do. The cable cars of the Heights of Abraham in Matlock (a popular village) is another place to visit with an appeal for all ages. Visit the Peak District Mining Museum and step into the life of a coal miner; a common occupation in this part of the Midlands. The 'Little Monkeys' indoor play centre offers safe bumps and spills in Darwin Forest Country Park. There is a seemingly endless list of places to visit and things to do in the Peak District that one family holiday will not be enough and you'll be booking to return the following year.
Read more about self-catering cottage holidays in the north of England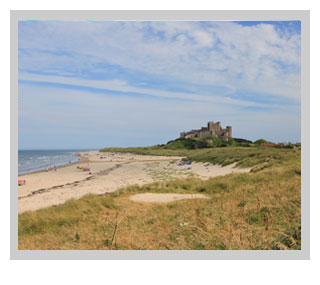 At the seaside – paddling and digging up the beach are free and children love being at the seaside. There are beaches of all kinds around our extensive coastline. Some of the very best beaches are in the far north. Scottish beaches are incredibly scenic and good for spotting seals and sea birds. Bamburgh Beach and castle in Northumberland offer an unforgettable memory of sands of stunning beauty. You may wish to rent a coastal holiday cottage in Northumberland.
Find out more about selfcatering holidays northern England