Holiday cottages with a cot and high chair for babies above 6 months
Sleeping and feeding are of utmost importance in a baby's life - even on holiday

Once your baby starts eating solid food, a high chair is useful for comfortable and easy feeding. Spooning food into a baby's mouth can be tricky enough at the best of times; babies are not born with a set of table manners and are as likely to spit or throw food around as eat it.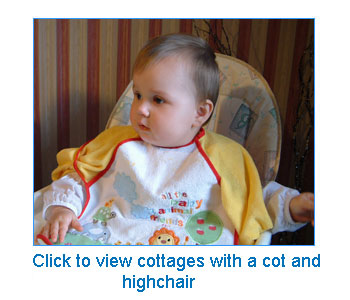 A high chair on holiday makes all the difference at meal times. Babies are usually strapped in with a belt or harness to prevent them throwing themselves headlong out of it. The other thing to watch with small babies is that they do not manage to squeeze out of the bottom. The determination and resilience of babies is quite remarkable and every mum knows that you cannot take your eyes off them for very long.
Make cleaning up after your baby's meals stress free by standing the high chair on a large sheet or two of newspaper or disposable sheets. The mess can then be scooped up and discarded with no problems.
Click on the photograph above to view a list of holiday cottages with a cot and a high chair.