Child-friendly self-catering cottage holidays in Scotland
Scotland for the brave and curious, children always are, rent a Scottish holiday cottage

My mother went to northern Scotland for a holiday to a remote village in Aberdeenshire called Pennan. This small village is accessed by a steep road into a bay with a strip of shingle beach indented with rock pools. It's the kind of place where you wander scouring the pebbles for glimpses of crustaceans and unusual shells.
Unfortunately for a famous news reader, he chose this peaceful remote spot for a relatively anonymous holiday. My mother, ever the gregarious friendly type, called out to him and when he turned and went in the opposite direction, she assumed that he hadn't heard her and pursued him. They both probably hold vivid memories of that day, my mother's a tale of success at meeting someone famous and being able to tell all her friends, his a tale of woe about being pursued in that remote place and trapped between cliffs and the sea.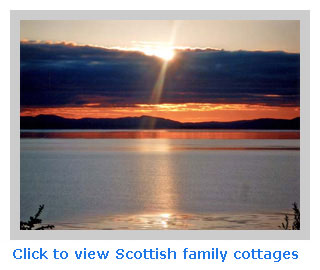 Scotland is one of those places that surprises the folk who venture that far north from England or Wales. Rent a white washed cottage in one of the small fishing villages around the coast and discover a new world, a world that is far removed from life in southern England. The traffic free roads are a joy to drive although some of the roads down to beaches may terrify your passengers. The Scottish coast is stunning irrespective of which part of Scotland you visit. Aberdeenshire has some terrifyingly tall granite cliffs at Buller's of Buchan near Cruden Bay. Walk to Slains Castle from Cruden Bay to see trees bent almost double by the wind and literally thousands of nesting sea birds. Sea pink thrives in the cliffs and a small stream edged by wild iris runs along a secluded ravine.
The rocky shores of this part of north east Scotland are interrupted by lighthouses, old stone harbours that used to be home for fishing boats and some fabulous beaches with shifting sand dunes. An entire village is buried in the sand near Balmedie, people still tell of hearing the church bells ring.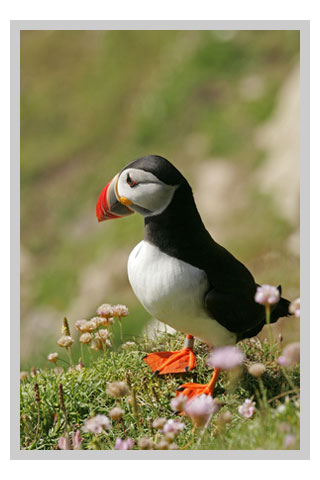 Any family that likes or would like to try birdwatching should come to north east Scotland. Puffins nest along the cliffs in May and there is a whole variety of sea birds. Take a drive inland and you'll spot finches, owls and if you go to the Highlands, eagles and hawks.
There is plenty of woodland for mountain biking and family walks and nature trails. Occasionally, a stone circle is encountered or Celtic stones belonging to a mysterious past.
Go up to the Spey Valley in between Buckie and Lossiemouth. Boat trips from Buckie take families out to sea to spot dolphins and seals. The seals can sometimes be seen on lonely beaches, lazing on the sand. The salmon fishermen tend to shoot them because they're in competition for the salmon. Stop at a smoking house and buy some genuine Scottish smoked salmon for your tea.
There are fabulous walks for the adventurous along wooded gullies with bridges over streams in the woods near Fochabers in the Spey Valley suited to the whole family. Or, you may wish to walk part of the Speyside Way to enjoy clear rivers where the children can try to see salmon and trout. The hedgerows have abundant wild flowers and wildlife, including adders.
Canoeing is an adrenalin fuelled sport that takes place on Scottish rivers. There are various locations for a canoeing experience during your family holiday in Scotland. Join a course to teach the family how to canoe safely, then take to the water.
Children and water usually mix very well. Scotland's Lochs are renowned and there are usually some watersports on offer, or failing that a boat trip across a loch goes down well.
The small town of Pitlochry in Perthshire is an excellent family holiday destination. It has a loch surrounded by lovely scenery. Rent a rowing boat for fun trying out your oarsmanship or hire bicycles to cycle around the loch. Lots of tourists visit to see salmon climbing the fish ladder on their way up river to spawn. It's a friendly place with the buzz of visitors.
If you have never viisted Scotland before, take the family there and give it a go. May is a good month, perhaps aim for May half term, failing that, the summer holidays. Find a cottage or a pine lodge to rent for your holiday in Scotland and start planning your Scottish family adventure.