Rent a house in town for a family self catering break
Stratford upon Avon and many other towns make for very good family holidays

Stratford-upon-Avon is one of the most charming towns in which to rent a cottage or a house for a self-catering break with family or friends. Full of history and character, there is a lot to do and it has a great atmosphere that is wonderful to soak up. Known throughout the world as the birthplace of the most famous and celebrated playwright in the world, William Shakespeare, Stratford-upon-Avon has much to see and do related to The Bard and plenty of other attractions as well, and renting accommodation in this town is the best place to really get a feel for life here.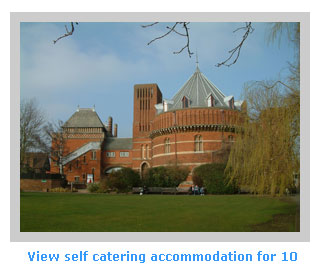 If you are a large party of 10 people then you can rent a spacious house which can accommodate all of you. It is a wonderful thing to go on holiday with all of your nearest and dearest and not leave anyone behind, and you can explore this beautiful town in the Midlands of England during the day and retreat back to the comfort and cosiness of your rented house by night, which will come to feel as though it is a second home by the end of your break. Self-catering holidays are fantastic because you can cook your favourite home-cooked meals in the house's fully-equipped kitchen on some nights, and you can sample the local delicacies on others at one of the many restaurants and pubs in Stratford-upon-Avon. You can also relax in front of your accommodation's TV with a DVD and a glass of wine – bliss!
Stratford-upon-Avon is located in the county of Warwickshire. This pretty town is surrounded by gorgeous rural countryside and is perched on the banks of the picturesque River Avon. The Royal Shakespeare Company's home can be found here, and there are always Shakespeare plays and other performances being shown in the theatres of the town every day, meaning that Stratford-upon-Avon is a haven for those who love theatre and literature. You will feel a sense of 'Olde England' when walking through the streets here, and you will see Shakespeare's influence everywhere, especially on Henley Street, one of the oldest in the town and home to the playwright's birthplace. Also worth a visit is the stunning thatched cottage of Anne Hathaway who was Shakespeare's wife, which is incredible to see and very inspiring.
With lovely winding streets, antique shops, little tea houses and places to go on walks and ambles, Stratford-upon-Avon is a great place in which to rent a cottage or house that sleeps 10 people. The bedrooms in this self-catering accommodation are spacious and comfortable, some may even be en suite. They have large living areas, private gardens and great kitchens, and are a wonderful base in which to explore and discover more about what Stratford-upon-Avon has to offer. Whether you are a fan of Shakespeare's works or not, this stunning town is a simply wonderful place to visit and stay in on a holiday with family and friends, and renting accommodation that sleeps 10 could not be easier.