Holiday cottages with a bouncy castle
Expend all that surplus energy bouncing around

Renting a holiday cottage in a beautiful part of the United Kingdom is a great way to take the family on a wonderful escape and see a different part of the country. From enchanting woodlands to gorgeous coastline with panoramic views over the sea, there is a cottage to rent for every type of holiday and every type of family. If you are wishing to go on a self-catering break with your children and want to keep them entertained, then the ultimate thing you can do is the rent a holiday cottage with a bouncy castle. This is a fantastic way to ensure that the kids have the holiday of a lifetime and one that they will never, ever forget and will want to repeat time and time again.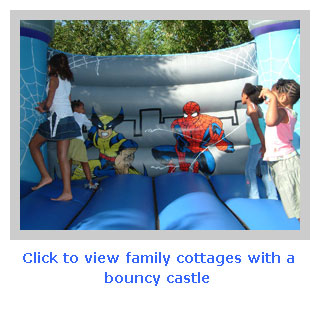 Holiday cottages come with private fenced gardens in which your children can run around and play in at peace without you having to worry about their safety or where they could have run off to. Some gardens are very large and come with a bouncy castle for the kids to entertain themselves with, and if you have a large family or are going on a break with lots of cousins, nephews and nieces then they will all absolutely adore playing and jumping around on the bouncy castle on relaxing afternoons where the adults fancy staying in and kicking back on the grounds of your rented accommodation.

This is the perfect treat for if one of your children's birthday's falls on one of the days in which you are away, and you can throw them a little birthday surprise. This will be one birthday that they will always remember and even the adults will probably end up joining in on the fun and having a quick go on the castle themselves!
Renting a holiday cottages with a bouncy castle in the garden will be a very special treat for all those who get to enjoy it, and your children will be so excited by it that it may be hard to tear them away! These quaint and charming cottages come fully equipped with all the amenities you will need on a self-catering break, but the little added bonuses such as a bouncy castle is a great way to ensure that you and your entire family have the break of a lifetime and one which you will wish to go on for many years to come.