Family self catering accommodation in a town for 6
Urban Family Holidays Provide Cottages Too

A self-catering holiday in one of the UK's towns doesn't have to mean staying in an apartment or townhouse. If you thought a cottage could only be found in villages and country lanes, you're in for a pleasant surprise. Towns also offer a diverse range of cottages with plenty to suit families of six people or more. These are found within the towns themselves or just on the outskirts and may be detached or terraced.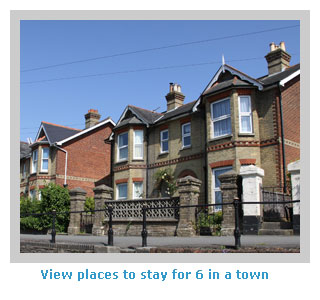 Your family could enjoy architecture from different historic periods in cottages constructed from local materials, such as Welsh homes made from local slate or the golden hue of stone found in the Bath area. You could enjoy staying in a house full of character, such as a Victorian or Georgian cottage. Some of this accommodation is on the listed buildings list. Many urban cottages come with pretty and well established gardens, often to be found in the older historic parts of a town, down a leafy narrow lane or mysterious-looking alleyway.
As for locations, UK towns are a treasure trove of cottages, with modern amenities and all the comforts of home. Good public transportation means you can leave your car when you want to go exploring. Holidaying in a town also means you have the opportunity to visit museums, galleries, historic attractions and both independent and chain stores.

For example, York has a fascinating Viking history, the Railway Museum and the charm of traditional shops. Stratford-upon-Avon, of course, attracts visitors from all over the globe because of its association with William Shakespeare. The famous university town of Cambridge has many beautiful buildings and hosts popular festivals in the summertime.
Wherever you book cottage accommodation, the destination you choose will please all family members. There is always something for the little ones to do and teenagers will appreciate the urban buzz, perhaps even visiting a theme park nearby. Click on the accommodation image and begin exploring self-catering in a town for 6 and see what good ideas you can come up with.