Holiday cottages in a village for family self-catering breaks
Stay in a pretty village to experience a slower pace of life

It is convenient to stay in a village on holiday, mainly because of the local amenities. Anyone with children renting a holiday cottage appreciates having a play park nearby, a swimming pool and shops for daily essentials. For city dwellers, a village is a welcome taste of rural life.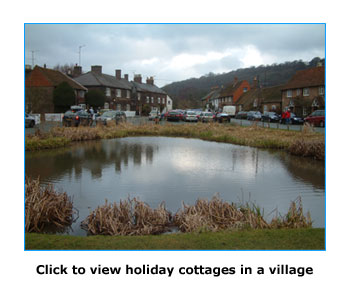 We are very fortunate in the UK and Ireland to have so many charming villages. Certain villages have a reputation for having lovely gardens, award winning tea shops, Good Food pubs or just a pleasant village green. A village can be an extremely pretty and interesting place to stay.
Villages in the Cotswolds are built of golden stone and are much admired by visitors. A Yorkshire village, is more likely to be built of a durable dark stone that adds to the brooding atmosphere among the fells. Go to Herefordshire to see villages with plenty of black and white houses or to Suffolk for colour washed period cottages.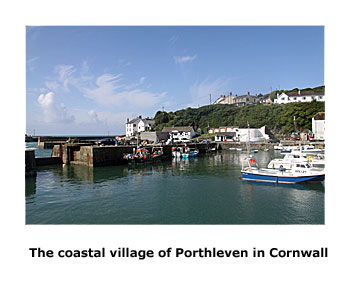 Popular holiday destinations have villages where a high percentage of the cottages are holiday homes. These tend to be busy during the summer and very quiet in the winter when the holidaymakers have gone home. There are plenty of such villages in south west England, in Wales and the Scottish Highlands. The coastal village of Porthleven in Cornwall, shown on the right, is one such example.
The same is true of Ireland, partly caused by families moving abroad for work and letting their houses as holiday homes.
Opinion is divided about villages where more than half of the cottages are holiday homes. The character of the village is different with so many temporary visitors, however, there are often tourist related businesses that enhance a holiday. Day trip booking centres, craft shops and gift shops serve a purpose and provide a useful service to holidaymakers.
A holiday cottage in a village may have its own garden where children can play safely outdoors. Out and about as a family, explore the village with your children, take bread to feed the ducks on the village pond or admire old cottages and churches. Historic villages provide the opportunity to discuss history, how people used to live and the passage of time. Perhaps a famous person lived and worked in a certain village? A holiday in a cottage in a village can be both enjoyable and educational with lots of things to spot and talk about.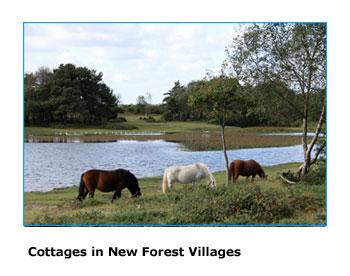 A favourite holiday cottage destination is the New Forest, on the south coast of England. Children love to see the wild ponies, go for walks in the forest and cycle along traffic free trails. There are various small villages in and around the New Forest, all offer plenty of holiday cottages for family self-catering. Take a look at New Forest village cottages to rent.
The beaches on the south coast near Lymington are a short drive away so that with a car you can have a family forest break combined with a few days at the seaside.