Child-friendly self catering accommodation for 14
stay in good quality houses, holiday cottages, barn conversions and pine lodges which the children will love

Perfect for a family birthday party, a large self-catering cottage for 14 is wonderful for enabling members of a family to share holiday s together.
You may be celebrating a special event or like some, just enjoying an annual gathering to maintain that closeness that is difficult in our busy age. Rent a holiday cottage for 14 in a beautiful area in one of our national parks and have a great time whilst keeping the family bonds strong. Somehow, telephone conversations are one dimensional compared with spending time together and it is these shared experiences that create memories that as a family you will look back on in the future. That is worth having. Remember to take photographs and you'll be able to recall minute details. Something amusing always happens on holiday, even if it is someone mistaking salt for sugar and baking salty cakes or a child falling into a pond fully clothed.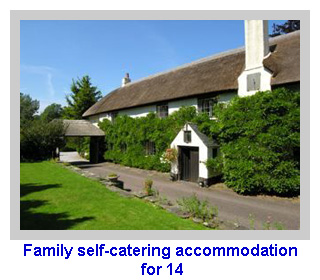 It is even worth putting up with the occasional relative that you dislike because staying under the one roof does not mean that you are going to have to tolerate them the entire time. There will be day trips out and there is plenty of space in a large house, perhaps even two or three public rooms if you choose wisely.
Family activities do not have to be expensive. One of the most exciting family activities in a rural area is a wildlife safari. Keep the children up until dusk and take them out to the nearest moor or woodland. Sit quietly in the shrubbery and listen for sounds of animals. Children will love this. The animals that appear will amaze you. We expect to spot the occasional fox and rabbit, however, small shy deer, flitting bats, a hooting owl, small beasties scurrying across the road, weasels and mice may make an appearance. You can of course increase your chances of spotting wildlife by renting a cottage in a national park or in a remote rural area and if you do your homework beforehand, you will be aware of which animals could be around. Trust me, this could be more exciting than you can imagine.
The other good thing about spending time with young nieces and nephews in a family group as that you all get to know each other better and those family ties can cross generations. So, get looking and find a fabulous place to sleep 14 for your extended family holiday.