Holiday cottages with a sand pit for children

Taking the family on a wonderful self-catering holiday in a charming little cottage by the sea or in a quaint village is a great way to spend a break in a different part of the United Kingdom. There are cottages available to rent for all types of families, from those with lots of children to smaller ones for couples, and all of them come with fully-equipped kitchens, large living areas and comfortable bedrooms, with private gardens for any kids you may have to run around in safely to give you peace of mind.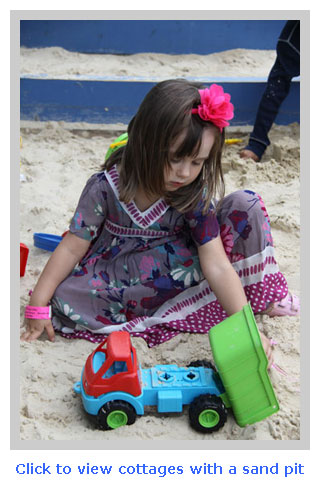 If you are thinking of renting a holiday cottage and you have small children with you, a fantastic thing to do to keep them entertained would be to rent one with a sand pit in the garden. This way, your children will be kept busy during times when the adults want to relax under the sun in the garden with a good book, where you can also keep an eye on them! These sand pits are great for if you are renting a holiday cottage in a village or forestry that is not close to the beach, as the kids will still be able to make sand castles and enjoy the sand without having to be by the sea itself. Even if your cottage is by the beach, the children can recreate the fun times they have had in the sand in moments where it isn't possible to visit the seaside, and so having a sand pit in the garden of your cottage will certainly keep them busy for a while!

Renting a holiday cottage is great to have a trip away that is relaxing and soothing, and if you have children they will love eating their favourite foods and having all of the home comforts that they are used to but in a different environment and setting. This is a great introduction to holidaying for young children who may get homesick, yet they will still get to see and explore a completely different area which they will love and remember fondly for a long time to come.

Having a cottage with a sand pit in your private and fenced garden is sure to be a hit with any small children, and whether you are by the sea or not, the kids will still get a chance to play in the sand. This little added bonus may not seem like a big deal when booking a cottage but it will certainly be a big deal to the kids who will have the holiday of a lifetime!