Cottage holidays in a mountain setting in the UK and Ireland
scale the heights and elevate your horizons with the children

Going on a family break to a stunning part of the UK and Ireland is a wonderful way to get away from any hustle and bustle at home and be completely immersed in tranquillity and incredible scenery. Whisking your loved ones away on a cottage break in a beautiful mountain setting is a fantastic way to do so, and there are plenty of these serene and spectacular backdrops dotted all over the UK and Ireland for you and your family to relax by and soak up the gorgeous mountain scenery.
Cottages with mountain scenery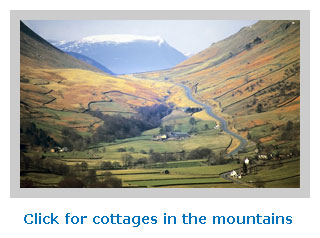 There are so many stunning mountain settings in the UK and Ireland, and one of the most incredible is the Lake District in Cumbria. Home to a vast array of gorgeous lakes, there are also several soaring mountains which make beautiful backdrops to the area. Renting a Lake District cottage with views over these Cumbrian hills can be rejuvenating for the soul, as you can be immersed in this fantastic scenery, being able to take long walks daily while you soak up the atmosphere.

Snowdonia in northern Wales is another great place in which to rent a self-catering family cottage close to mountain scenery. Home to Mount Snowdon which is the highest mountain in Wales, this National Park is home to some of the most incredible mountain scenery in the country, and there are lots of mountain hikes and walks that can be taken with lots of public footpaths. As well as Snowdon, there is Tryfan which is a popular peak to climb, and some lower mountains such as Moelwyn Mawr and Y Garn.
Family self-catering cottages in Scotland and Ireland
The highest peak in the British Isles is Ben Nevis which can be found within the Grampian Mountain range in Scotland, which is also simply wonderful to rent a cottage by. In Ireland, there is the Macgillycuddy's Reeks mountain range in County Kerry in the south of the country, home to Ireland's highest peak of Carrauntoohil.
Family friendly cottages come equipped with everything that you will need on a self-catering break with young children. They come with cots for babies to sleep in by your side at night, high chairs for them to join in with the family at meal times, and with enclosed gardens for kids to run around and play in and for you to relax and read a book in, they are simply perfect for a lovely break. As well as family friendly amenities, they also come with fully-equipped kitchens so that you can prepare your favourite meals from home whenever you want, and television sets with DVD players so that you can keep up to date with the shows you usually watch, and the children can watch a film on quiet evenings in. All in all, cottage breaks are brilliant for if you want to experience a home away from home in an entirely new setting, and especially if you have young children who may get home sick and who may want comforts they are used to.

Renting a family holiday cottage in a mountain setting in the UK and Ireland is a wonderful idea for either a relaxing or an active holiday that you and your loved ones will always remember.