Family self catering cottage with a bbq
sizzle sauasages and burgers on holiday - make the most of the summer, at least the meat will sizzle if not the weather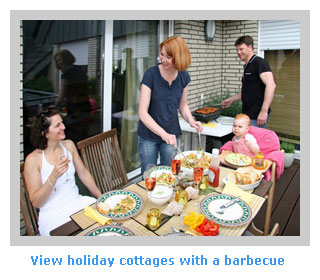 Summer and barbecues go together. The seductive smell of burgers and sausage on a BBQ has us all out in our gardens enjoying an outdoor feast. A barbecue is a great way to add pleasure to your relaxation time in a family cottage holiday. Not all holiday cottages have a garden or barbecue, so do hunt around to make sure that you find one. Click on the photograph on this page to display a list of self-catering cottages with a barbecue. Please note that holiday cottages or cabins in a holiday park may have a communal barbecue.
Fire pits are also becoming popular. They provide a warm 'bonfire' to sit around and chat as evenings grow cooler as well as the opportunity to grill a few steaks or kebabs in an informal way. Provide a stick or rod to give the coals a rake now and then and males will be in their element. Any fire is a hazard that small children should be kept away from.
A barbecue can be a shared family meal with everyone contributing to the task on holiday. Men inevitably take over the actual cooking which is excellent because that's half the work involved. Mum and the children can concentrate on salads, drinks, crockery and cutlery. Self-catering holidays can be fun and as little or as much work as you choose to do. Go out for those gourmet meals, buy ready prepared food that you just heat up in a microwave or oven.
Some people don't even mind shopping in strange supermarkets or local shops for food on holiday. Popping into the local delicatessen is a journey of exploration with a few treats in store when you get back to your holiday cottage. It is always satisfying to come across fresh artisan bread, organic foods and home-made pies. A farmer's market may also provide some foodie delights and is a pleasing change from the mundane shopping at home.
Rent that holiday cottage with a barbecue for your family summer break and look forward to lazy days or evenings in the garden, lots of good locally produced food and some sunshine.