Self catering cottages for 12

Searching for a big holiday cottage to sleep about 12 people? Look no further, we can point you in the direction of self-catering cottages for 12 in Britain and Ireland. Click on the cottage image displayed to view a selection of cottages for 12.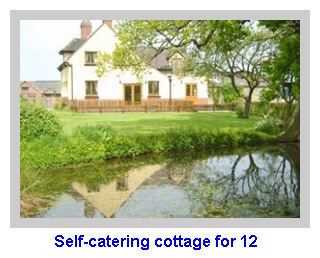 Perfect for groups of friends going away together or bigger families, these bigger holiday cottages allow people to go away together and eat around the same table at meal times.
The only time of year that you have to book far in advance for is Christmas and New Year, a popular time for family get-togethers. If you would like a big cottage for Christmas, try booking at least 6 months ahead. It is not uncommon for people to rebook a cottage in January for the following Christmas if they particularly like the one they stayed in.
New Year get-togethers for New Year's Eve parties are another peak time although it's mostly really large self-catering cottage or houses that are in demand and one that sleeps 12 is towards the lower end of the list.
One factor that we always stress when renting self-catering accommodation for groups is that people check the bed configurations. Couples are happy to share a double bed but not two completely unrelated people. If not careful, your party could go with more of a swing than planned.
The number of bathrooms is also important to avoid queuing in the mornings and we would also suggest that you check the following:
Is the hot water boiler capable of heating enough water for 12 baths or showers in the evening?

Are 12 towels provided?

Does the dining table seat 12 people?