Self-catering cottage with outdoor swimming pool
Find the heated swimming pools, generally available May to September in the UK and Ireland - good for children

One thing that people always say they want when they are going away on a family summer holiday is an outdoor swimming pool. It's something fun for everyone to use and it is definitely something a little bit different to what you probably have in your everyday life. However, if you're choosing to go on your family summer holiday in England this year, you may think that there is absolutely no way of you getting to have an outdoor swimming pool to use - however, this is not the case. There are plenty of family friendly cottages and lodges in England that have an outdoor pool that you can use, providing that you go at the right time of year and that the weather is in your favour - really helping to make your family break in England something a little bit different than you were expecting.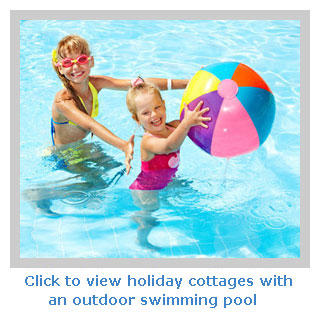 Plenty of the holiday cottages also have swimming pools, some of which are heated outdoor pools. These are generally restricted to the summer months only, from the beginning of May until the end of September.
A swimming pool that is attached to a cottage or very close by is convenient to you and your children, because they will want to be in it constantly. Being nearby means that you can plan your eating around when the children want to swim or are hungry, meaning that staying self catering really can fit in better around your holiday plans. Not only this but self catering is wonderful if you have fussy eaters as it means that they can eat what they want and also creates a more relaxed feel on the holiday as you are running to your own time schedule and not anyone else's.
If you're looking for a cottage with a swimming pool, you obviously have to choose the time of year that you choose to go away on holiday carefully, especially with the British weather being what it is. It would be no good going away to this kind of cottage in January unless you want to catch hypothermia and so for this reason, many holiday cottages will either close themselves or just shut their swimming pool between May and September. This makes these holiday cottages absolutely perfect for a family summer holiday in the school holidays but is definitely something that you should check about before booking to ensure that you avoid the disappointment of getting there, realizing that the swimming pool is closed and then having to think of some other way to entertain your children instead.
Staying in a holiday cottage with an outdoor swimming pool is brilliant for adults and kids alike and definitely isn't something that you expect to have on a holiday in the UK. If you're looking for a way to make your family holiday a little different this year, why not stay in a holiday cottage with a swimming pool, perfect for relaxing providing the weather is on your side!