Self-catering for 6
stay in holiday cottages, holiday apartments or log cabins and enjoy time out with your family on holiday

Here you are, planning to go on holiday and are scouring the Internet for self-catering accommodation for 6 people. Self-catering for 6 throws up a number of choices: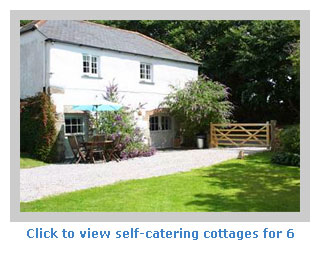 3 bedroom holiday cottages, some of which have one double bedroom and 2 twin bedrooms, others a double room, a twin room and a bunk bedroom and variations on the theme. The thing to avoid is a holiday cottage with 2 bedrooms and a sofa bed in the lounge because this disrupts the people sleeping in the lounge if others wake earlier. Try to keep the lounge as a separate communal area for everyone to use.
The number of bathrooms and shower rooms is another choice to make. An en-suite bathroom for each bedroom is the ideal, however, cost is often the determining factor. We would all opt for luxury self-catering accommodation but finances do not permit that.
Click on the image of self-catering accommodation for 6 to browse a lengthy list of cottages, pine lodges, apartments and houses. These can be sorted by town and various other criteria to help you find exactly what you need.
You will no doubt have an idea of the kind of place you would like to visit or may be visiting somewhere specific for an event, in which case, the search is easier. If it's a general notion that you have in mind, for example, a self-catering holiday at the seaside then all kinds of possibilities open up. There are seaside cottages, lodges and apartments all around the coast of Britain and Ireland. If you're flexible, you could discover a new destination at a good price. The cost of travel needs to be factored in if it's a long distance away.