Self-catering holiday apartments for 14
a good choice for group holidays and short breaks in Britain and Ireland

A seven or eight bedroom apartment is big for an apartment and fairly rare. These really large self catering apartments tend to be found in large converted period buildings and occupy an entire floor. They confer the same advantages as a bungalow in that the one story and no stairs are advantageous to mobility impaired people and therefore an excellent choice for family gatherings which entail several generations.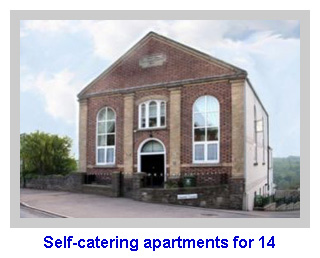 An apartment in a period building may have high ceilings and ornate plasterwork. The amount of space for a group much depends on the conversion, on whether the developer had comfort and pleasure in mind or just the number of beds that can be squeezed in per metre.
Browse any current self-catering apartments for 14 that may be available to rent and see whether any suit your family gathering.
If you are unable to find a suitable apartment to sleep 14 in comfort, you may wish to consider alternatives. There are plenty of large houses that sleep 14, also there are flexible cottage arrangements grouped together that might do. Some cottages have connecting doors that can be unlocked to allow the flow of people through both cottages.
One need that large groups tend to have is the desire to eat together around the one dining table. There are small cottage complexes where this is possible because the group of cottages shares a large barn communal area which has tables, seating and its own kitchen – perfect for this type of situation. These places do exist around the UK and Ireland. Look for a small cottage complex of about 3-6 cottages that a group could rent between them. In some ways this could be a good arrangement because everyone has their own personal space and yet can meet up for meals.