Holiday cottages that sleep a family of six
Mum, dad, two children and grandparents can all enjoy a fabulous self-catering break together in these cottages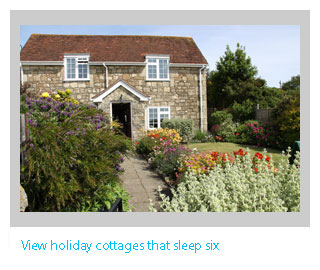 Across the United Kingdom and Ireland there are numerous locations for a self catering cottage holiday that caters for six people. From luxurious cottages with pools and hot tubs, to more economic properties, all of which are located within areas of outstanding beauty plus close to attractions such as castles, theme parks and places of historical interest.
Dog owners are allowed to take their pets with them on holiday to accommodation that is designated as 'pet-friendly'. Self-catering holidays are perfect for the varied needs of a family that may include parents, a couple of children and grandparents.
For all members of the family
For families with young children many cottages have outdoor play areas to keep them entertained whereas families with older children and young adults may prefer a cottage in close proximity to activities, such as rock climbing for example, plus night-time excursions to local bars and nightclubs. There are ample choices available to ensure that all members of the party relax, rejuvenate and stay entertained too. The beauty of a self catering cottage holiday for families is that the cottages themselves are fully equipped with all kitchen equipment, bedroom linen, as well as televisions and all the latest technological gadgetry, essential for those teenagers!  A home from home environment is possible with a cottage holiday.
Holiday homes that accommodate six in Scotland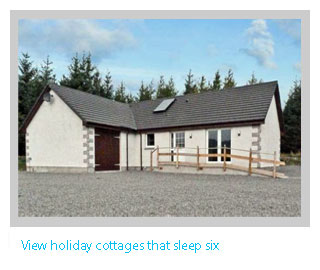 Scotland has a wide range of self catering cottages, catering for six people. Perhaps stay in the lowlands and visit Edinburgh with its' royal connections and world famous castle. Edinburgh also boasts lovely sandy beaches and every August the Edinburgh Tattoo is certainly worth attending with a flurry of acts, parades and of course bagpipe playing. Arthur's seat, standing at 850feet above this city, is worth the climb to admire the views of old and new which blend together in this stunning cultural metropolis. For those on a cottage holiday accommodation can be found in the city itself or surrounding villages and towns such as Carlops which is home to a historic coaching inn as well as being close to the Pentland Hills. The city is within easy reach via public transport or vehicle. Further up this magnificent country Inverness is a place that has attracted many visitors for years. This is largely due to the massive lake found near Inverness that is over 700 feet in depth and many believe is home to 'Nessie' (Loch Ness monster), who supposedly resides in the waters of this incredible lake which is just over twenty miles long. Cottage accommodation for six can be found in nearby hamlets and villages, such as Fort Augustus, which is the ideal location from which to explore not only the loch, but also visit the romantic castle which juts out over the lake. There are lovely little taverns offering refreshments and local specialities such as their heart warming Scottish broth. The scenic beauty of this area will enchant all who visit this mysterious part of the United Kingdom.
Self-catering cottages that sleep six in the Lake District
The Lake District offers a multitude of self catering holiday cottages. Visitors could opt to stay close to Lake Windermere which hosts a range of boating activities for active folk plus a lake cruise for the less active offering a leisurely pace to appreciate the surrounding scenery. Windermere itself is a lovely quaint town stacked with shops. bars and restaurants to suit all tastes and ages and twinned with Bowness on Windermere which sits lakeside. Cottages are well positioned to cater for all tastes and ages. Choose to stay within the towns or in one of the outlying villages such as The Howe which is a small hamlet on the banks of the River Chelmer.  Also close to Windermere are some lovely walks taking in spectacular scenery plus the waterfalls in the area are stunning, with one a height of forty feet of cascading water. Quite dramatic to look at and a photographer's dream. Throughout the lake district there are many ancient sites to visit for those who are interested and the mighty stone circle at Castlerigg is a marvel and is cased on all sides by the mountains. The Lake District has a lot to offer those on a self catering cottage holiday and is sure to be popular with all ages who visit.
Irish holiday homes that sleep 6 people
Across the Irish sea is Ireland, known as the emerald isle due to its' green luscious landscapes. There are many exceptional areas of ancient interest, natural formations and places of outstanding natural beauty. Dublin in the Republic of Ireland in the South of the country is a vibrant city with lots of bars, clubs and restaurants, sure to be a hit with travelling groups who have young adults who love to socialise.  Although the city itself is quite charming, older folk will also find enjoyment by  visiting the castle or St Patricks cathedral which dates back from the 11th Century. Those with younger children could enjoy a fun day out at Dublin Zoo.  A three hour drive away to the north is the Giant's Causeway, which is a natural rock formation jutting into the sea. Steeped in myth and legend, this experience is sure to astound all.  Self catering cottages catering for six people are scattered around the city and visitors can also opt to stay in outlying villages. In nearby County Wicklow there are cottages available with their own private beach. The southern harbour city of Galloway is an enchanting medieval city and also has an 18th century square bursting with cafes and magically comes to life each evening with lively Irish folk music. Cottages in this area of Ireland are located close enough to this vibrant city, often within walking distance, but groups wishing some peace and quiet can opt for one of the many surrounding hamlets and villages. Ireland is bursting with delights and offers fabulous accommodation for any group of visitors wishing to stay at a self catering cottage.
Across the North Irish sea is the Island of Anglesey where visitors will find the welsh scenery outstanding. There are many self catering cottages on this island catering for all tastes both inland and coastal. Whilst on Anglesey perhaps visit the numerous ancient sites or Beaumaris castle a sea fort on the south coast. The station at the town of  Llanfairpwllgwyngyllgogerychwryndrobwyll-llantysiliogogogoch is worth a visit and as well as being rather fun to attempt to pronounce this long word it is actually the longest train station name in the United Kingdom. In mainland Wales there are endless possibilities for any group of six wishing to stay in self catering cottages, from beaches to mountains through to towns and cities. Wales is a fabulous choice that will delight both parties of young and old.
How about a family self-catering break in York?
In England, York has attracted visitors for many decades due to the history as well as the scenic wonders. There are a wide variety of holiday lettings in York, including properties that sleep six people. The Jorvik Viking Museum in York is sure to be a hit for any visiting family, as it offers a unique underground boating experience which brings history to life. The Malhamdale area is an excellent touring base to explore the surrounding areas of interest such as Janet's Foss Waterfall, and the limestone cliffs at Malham. Cottages are scattered across Yorkshire with easy access to attractions and places of interest.  With the serene rolling landscape of the Yorkshire Dales as a backdrop for a cottage holiday, this part of the country is certainly an ideal location for a self catering break.
Self-catering accommodation for six in Middle England
In middle England, Evesham which is south of Birmingham boasts a scenic part of the River Avon which is a lovely area for picnics as well as offering ferry rides down the river.  Evesham Abbey is a haunting building dating from 700 AD and is very atmospheric plus enchantingly located near the riverside. The town itself is very quaint with lots of historical architecture as well as various cafes, bars and restaurants.  Self catering cottage holidays in this area for groups of six are available and it is only 14 miles to Stratford-Upon-Avon, birthplace of Shakespeare, and the city of Birmingham with its' newly constructed canal-side area of bars, bistros and restaurants as well as shopping is a mere 30 miles away. Therefore visitors to this area of the Midlands can expect a host of entertainment in addition to a relaxing break in the countryside.
Holiday accommodation for six near Stonehenge
Wiltshire is home to Stonehenge, the world famous neolithic monument that attracts visitors far and wide. In addition to Stonehenge the countryside is simply littered with ancient sites sure to enthral any visitors. The ambience of the Wiltshire Downs, and the peaceful hamlets and villages, provide a welcome break from it all. Staying near the market town of Marlborough is ideal for touring as it is a central location. The friendly villages offering accommodation such as Aldbourne, offer wonderful retreats and are often thatched roof historic wonders. Wiltshire is a fascination for many and nearby at Avebury is The Red Lion Inn, reputedly haunted, and is the only public house located in the middle of a stone circle which is so vast it encloses the entire village. Wiltshire is a fabulous place to immerse in ancient wonders and calming scenery.