Holiday cottage with a cot
a comfortable bed for every member of the family, including the youngest

Every family friendly cottage will have a cot available. Sometimes you may need to request that it is placed in the cottage for your arrival, especially on a small cottage complex where optional equipment is moved around to suit individual guests.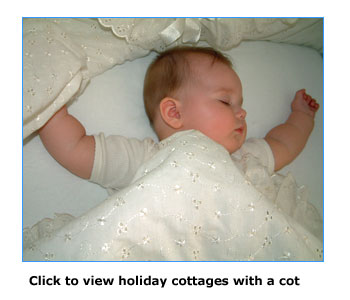 In many cases, baby bedding is not provided and you will need to bring your own supply of sheets, a baby duvet and pillow. Any holiday cottages that are described as baby-friendly as opposed to child or family-friendly may provide baby bedding and a laundry service. A lot of mums prefer to have their own baby bed linen because they know how it is washed and the soap powders used.

The type of cot may make a difference to you. Certain travel cots are suitable for small babies only, some brands are sturdier and can be used for toddlers. Make a point of asking the cottage owner what age the cot is suitable for. Take antiseptic wipes to thoroughly clean any wooden cot prior to use, despite how clean it may appear.
Double check the area around the cot when you arrive at your holiday cottage. Children have been known to become entangled in blind pulls and to pull objects down on top of themselves. Not all holiday cottages have spacious bedrooms and sometimes a cot may be placed in a less than satisfactory position.
However, the baby bedding and safety details taken care of, you can then consider the other details for a happy baby-friendly holiday. Possible questions to ask include?
How far from the parking space to the cottage?
You will have the baby and a considerable amount of baby equipment to transfer from your car to the cottage.
Is the driveway gravel or tarmac?
Pushing a baby buggy on gravel is not easy.
What are the arrangements for the binning of disposable nappies?
You should be able to just bin these in the usual way but best check. Rural cottages may have a septic tank and baby nappy liners cause havoc with the plumbing.
Once you are satisfied that everything is in place for a baby-friendly holiday, you can settle down and plan the things that you would like to see and do.