Self-catering bungalow for 14
holidays all on one level, great for mobility impaired of all ages

A bungalow that could accommodate 14 people is a large sprawling property, often set in expansive gardens. The thought of a bungalow conjures up images of elderly people who cannot deal with stairs. This is far from the reality although they are good for anyone with impaired mobility. Do check if there is a ramp for wheelchair access if a wheelchair user is part of your group of 14.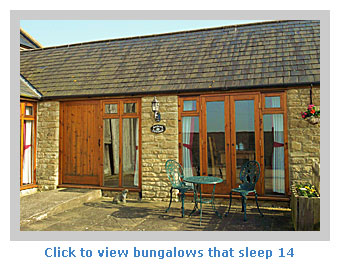 A bungalow inevitably takes up more floor space and land than a conventional 2 story house. Expect the rental price of a bungalow to be slightly higher than an ordinary upstairs and downstairs holiday cottage. There are some glamorous holiday bungalows to rent in the UK and Ireland, the modern ones are purpose built for holidays and have all en-suite bedrooms which is a boon for a group of 14.
Click on the image of a bungalow shown to view a selection of bungalows that sleep 14 people to rent for holidays and short breaks. These are dotted around England, Ireland, Scotland and Wales so you should be able to find one that matches your requirements and if you have not yet decided on destination, read the finer details to see whether the area it is in would entice you for a holiday.
There are self-catering bungalows for 14 at the seaside, on golf courses – perfect for golf trips away.