Advertise pine lodges and log cabins for family holidays
Wooden surroundings are child proof and cosy

We have grown to love the look and atmosphere of a pine lodge holiday; so cosy , warm and homely. Pine lodges and log cabin to rent for holidays have been springing up in all holiday destinations. They're brilliant for families because they are practical with everything built in and planned. There is space to store clothes and sports gear on holidays, room to live as a family with well-planned kitchens and bathrooms and best of all, the walls and floors are made of durable wood so that you don't worry about children damaging the decor.
Pine lodge breaks are recommended for family holidays. There are pine lodges to suit all budgets from basic to luxury and are found in attractive locations. There may be fishing lakes nearby, a swimming pool, cycle paths, woodland or beaches.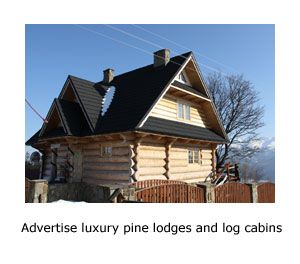 Call us to advertise your pine lodge or log cabin so that other families can enjoy it and contribute to your costs of owning a holiday home. Various advertising packages are available.
All pine lodges and log cabins should be child friendly and offer good quality well-maintained holiday accommodation.