Large Family Holiday Cottage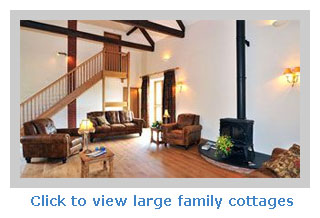 Large families with numerous children are quite rare in Britain, however, there are occasions when an extended family would like to go on holiday together and rent a large cottage or self-catering house for the purpose. The good news is that there is plenty of choice with a wide range of houses that sleep 8 upwards in all holiday destinations in the UK and Ireland.
Sometimes it can be difficult to decide where to go in holiday, especially if there is wide age range to satisfy. One way is to ask everyone in the family group to name 2 things that they would like to do on holiday. This way you will have an idea of the destination and the type of property. If the majority mention a beach then you know that you are looking for somewhere by the sea, if they mention hill walking then it could be the Peak District, Cumbria, the Pennines or Scotland, for fishing then renting a fishing lodge by a lake has to be a safe choice. Naturally, it all depends on the type of group and age range.
It is far easier to make a decision for holidays that entail only one family, difficulties arise when two or more families decide to go on holiday together. It is best to sit down and have good discussion and reach concensus before booking that holiday cottage otherwise one or two members may feel slighted and resentful. If an agreement cannot be reached then draw lots for a number of suggestions. Sometimes the only person it is possible to please is yourself.
We have a few suggestions for self-catering breaks for the bigger family: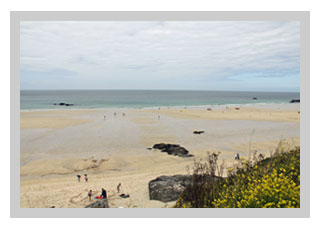 St. Ives is a seaside town on Cornwall's Atlantic coast, not very far from Land's End. It can be a long way to drive depending on where you live but once you get there, there is so much to see and do. The town has 3 good beaches with facilities for watersports. There is a picturesque harbour and winding narrow streets with shops and lots of art galleries. Tate Modern has a branch in St. Ives and the town is renowned for its artistic community. Everyone enjoys eating out and sampling the local fare on holiday and St. Ives will not disappoint. There is every kind of eatery from a pub and cafe to fine dining. Because it is coastal, traditional fish and chips are as fresh as they come.
St. Ives is popular with tourists, especially during the summer holidays and there is a good variety of entertainment from musical performances and theatre to amusement arcades.
Take the bus or drive from St. Ives along the coast and visit a tin mine museum. Old tin mine workings litter the countryside between St. Ives and Land's End. The coastal road is famous for being a good drive with lovely views for a day out. Many people like to have their photographs taken beside the famous sign post at Land's End. A visitor centre has been built on the cliff tops, which offers various activities, a 3D cinema and shopping.

As unlikely as this sounds to some, Essex is a fantastic holiday destination. The beaches of north Essex, Clacton and Frinton in Sea are sandy and long. There are piers with traditional seaside entertainment.
Go inland in north Essex for the beautiful landscapes of Constable Country. Visit Flatford Mill which still looks exactly as Constable painted it. Take or hire bicycles to cycle the traffic free path along the river. There is boating on the Stour beside the village of Dedham and several good food pubs for a hearty lunch.
North Essex is peppered with charming old villages, many of which still have thatched and half-timbered period houses. Go for country walks or take a tour of the various antique shops. The largest antiques centre in Essex is at Battlesbridge. Visit Tropical Wings Zoo and Marsh Farm, an open farm for children, nearby.
Maldon is an amazing place for families with young children. The local Promenade park has a good summer programme of activities in addition to its resident water play area (tickets required) and pirate themed adventure climbing frame in a giant sea of sand. Bouncy castles galore are in the park on selected days of the week, sometimes they have huge 'hamster balls' and trampolines.
For indoor play, visit Madison Heights family leisure centre and enjoy roller blading, ten pin bowling or a cavernous 2 tier soft play centre. The Chinese restaurant there is recommended.
Take bread to feed the swans on riverside walks in Maldon, join the ghost tour in the evening and have a meal on the quayside where the London barges are moored. Boat trips out to see seals are also available.
The town of Colchester has an interesting history dating back to the Romans who named it and beyond. There is a castle to visit and one of the best zoos in the country.
Besides all these family oriented activities, Essex offers shopping opportunities galore. Chelmsford, Colchester, Southend on Sea, all have very good shopping centres.
Find that large holiday cottage in Essex and have a really good holiday with more places to visit and enjoy than you thought possible.