Small family friendly cottages to rent for holidays near home
it's amazing what you can discover without going very far

Cottage holidays can be the new budget break. As air fares rise, families seeking that all important summer holiday look to stay at home and self-catering cottages offer many advantages over alternative self-catering accommodation. Camping is probably the cheapest form of self-catering but do you really want to get up during the night to trail to the toilet block in the dark? Or to hang clothes up in your tent to find them damp and cold when you put them on?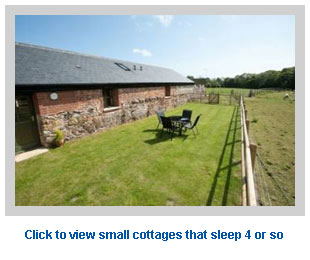 Rent a small holiday cottage and enjoy comfort and ease; that's what everyone wants from their holiday accommodation. Britain and Ireland may be relatively compact islands but we do have a wealth of choices for holidays. Agreed that the weather is the main disadvantage of staying at home unless you are exceptionally lucky but do think of all the super advantages; speaking English, no mosquito bites or holiday vaccinations, not being ripped off by foreign traders or harassment by vendors on beaches.
It is all about the children on holiday
Admittedly, most of the harassment for families on beaches comes from the children. The numerous requests for ice creams, drinks and fun fair rides are a small selection. Going on holiday with children is easier if they have a set of rules given to them before the holiday. Set a limit for the number of ice creams, sweets etc. Teach them about budgeting; explaining how much you have per day and if they're old enough, get them to keep track of the money you're spending. The big advantage of self-catering is buying in your food, snacks and treats from a supermarket and having them on hand to distribute as needed on holiday.
I also recommend making an investment in a collapsible wheeled trolley that is large enough to accommodate portable chairs, picnic blanket, towels, picnic sets, beach toys or anything else that you may wish to ferry from your holiday cottage or car to a beach or park. This saves an awful lot of effort on holiday and numerous other occasions. Only families with young children appreciate the quantity of paraphernalia that is regularly transported.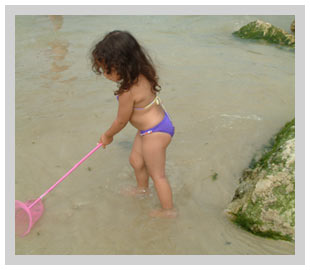 We have some superb safe and clean beaches but getting to them can occasionally prove to be a challenge, especially if the nearest car park is a good distance away. For people who hate the hassle and expense of parking, I would suggest going north for seaside holidays. The length of the drive would have to be weighed against the advantages and we know small children dislike long car journeys, however, if Scotland is not too far for you, try Scottish beaches.
Go north for self-catering cottages surrounded by tranquil scenery
Before you ask, the weather is generally cooler in the north and you may not acquire a sun tan but you'll save a fortune in sun screen and won't have to be too concerned about sun damage. Children love playing on sandy beaches and rock pools and these are available all around the Scottish coast. Certain beaches are backed by sand dunes and you've not lived unless you have slid down a sand dune on your bottom. You will see more sea birds than you have seen in your life and go for walks in the country to spot Highland cattle, red squirrels and strange beasties.
If the thought of a peaceful beach holiday combined with bird watching and wildlife spotting appeals to you, try the north east Scottish coast for a seaside break like no other. The beaches of Balmedie and Cruden Bay in Aberdeenshire are wonderful. Even tiny coves such as Whinnyfold are fabulous; these are places where you can gather drift wood and have a bonfire or barbecue on the beach. Go further north and west to the Moray Firth to go dolphin and seal watching.
Another excellent family holiday destination for the beach and wildlife is southern Ireland. Rent a holiday cottage in County Cork and take a trip off the coast to see dolphins, seals and occasionally whales.
Now isn't that much more exciting than a trip to Blackpool or Brighton?
Perhaps a little time to yourselves?
And if you need a break away from the kids, book a small cottage just for two for that weekend break, or if you can leave the children with grandparents, spoil yourselves a lovely lazy week away.